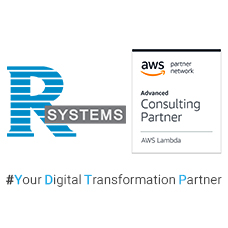 The goal of this center is to build frameworks and solutions to expediate the deployment of various IoT use cases such as smart cities, Industry 4.0, and Autonomous and Connected Vehicles.
SACRAMENTO, Calif. (PRWEB) April 24, 2020
R Systems announced the creation of its Amazon Web Services (AWS) Internet of Things (IoT) Future Technology Center to be headed by Dr. Harsh Verma. This center will be co-located in California, USA and Noida, India and will include a multi-disciplinary team of AWS IoT Experts, Solution Architects, Data Scientists, User Experience/User Interface (UX/UI) Experts and Developers.
Avirag Jain, Director & CTO at R Systems elaborated, "We believe in the power of AWS' IoT solutions, and with this center we'll have capabilities to service our clients' IoT needs end to end, in areas such as Strategy & Consulting, IoT Engineering, SI & Deployment Services, and Managed services & support."
The center will include an advanced IoT lab and a R&D center which will work on both AWS IoT Core & AWS Edge technologies. The center will also focus on AWS' AI & ML services, as well as AWS' AR & VR offerings to help clients build and operationalize sophisticated next-gen IoT solutions. This will help R Systems' clients realize business value faster, and create a competitive advantage for them in the marketplace.
"With R System's AWS IoT Future Technology center, we can help clients take advantage of AWS's IoT solutions for building digitally connected products quickly, with minimal investments upfront to deliver maximum business value to clients," said Dr. Harsh Verma, Head of AWS IoT Future Technologies Center at R Systems. "By leveraging the power of AWS, we can bring a unique value proposition for companies in need of IoT/Edge Computing solutions to meet their business & strategic initiatives and apply AI at scale across varied data sources to generate predictive insights in real time."
R Systems is also leveraging AWS to bring AI & IoT together to make devices more intelligent. AWS Certified Solutions Architects will help build a highly scalable & secure cloud infrastructure on which connected devices can easily & securely interact with each other, help gather and analyze sensor data, and provide valuable insights to businesses.
About R Systems:
R Systems is a global digital transformation leader that provides AI-driven solutions to clients across industries, through a broad range of technology, IoT, analytics & AI/ML services. We continue to empower organizations since over 26+ years, with 16 delivery centers, 25+ offices worldwide and a workforce of 2700+ professionals.
Connect with R Systems: