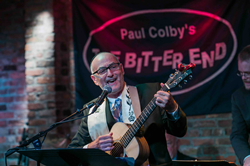 Sim Shalom Synagogue offers the best of Rabbi Cantor Singer Songwriter Steve Blane's passions during the High Holidays jazzed up services.
NEW YORK (PRWEB) July 27, 2021
Singer-Songwriter Rabbi and Cantor Steven Blane will be releasing a brand new album on Rosh Hashana Sept. 7th entitled "Boulevard of Broken Dreams." It features ten original songs by Blane who's musical style is greatly influenced by Leonard Cohen, Tom Waits and Roy Orbison. Blane sings and plays guitar, piano and ukulele on the tracks. Here's a preview: https://soundcloud.com/steveblane/sets/boulevard-of-broken-dreams
The tracks include:
-Cruel To Me (Treat me really badly and maybe I can leave you. Maybe.)
-Every Night I Dream of You (I can't forget about you even in my dreams.)
-Boulevard Of Broken Dreams (I keep walking down the Boulevard and see you everywhere.)
-The Bridge (This is a John Lewis inspired song about hope.)
-Mother Got My Goose (Love is a nursery rhyme with a sad ending.)
-Two Broken Hearts One Heartache (Neither one of us gets out of this thing without the hurt.)
-Bliss (You make me feel so damn good.)
-None So Blind (Ha. Fools will never learn.)
-Pour me a beer that's as cold as my ex-girlfriends heart (Pour me another one bro.)
-Guardian Angel (A good man, his family and their guardian angel.)
Once again Blane will blend his love of Judaism and music and lead his Jazz Quartet for High Holiday Services at the iconic Bitter End in the West Village. Add for the first time, join the Rabbi Blane Trio for "Dinner & Kol Nidre" at Silvanna in Harlem. Watch prior High Holiday services here.
Last year because of covid the services were on zoom. Sim Shalom will have a zoom option again this year for those who cannot be in New York or are not able to attend in person.
ALL Ticket options are available here.
ABOUT JEWISH SPIRITUAL LEADERS INSTITUTE, SIM SHALOM AND RABBI STEVE BLANE
Sim Shalom is an interactive online Jewish Universalist synagogue which is liberal in thought and traditional in liturgy. Created in 2010 by Rabbi Steven Blane on Manhattan's Upper West Side, Sim Shalom offers a means of connecting the unconnected. Rabbi Blane leads accessible and short Shabbat services every Friday night using a virtual interface and additionally Sim Shalom provides online education programs, Jazz concerts, conversion and life-cycle ceremonies along with weeknight services at 7:00PM EST.
Clearly ahead of his time, ten years prior to covid, Rabbi Steven Blane founded Congregation Sim Shalom which was the world's only fully online synagogue and offered worship services.
Rabbi Blane is also the founder and director of the Jewish Spiritual Leader's Institute, http://www.jsli.net, the online professional rabbinical program. To date, Rabbi Blane and his staff have trained and ordained more than 170 Rabbis and Cantors who are serving Jewish communities around the world. Blane is also a Founder of the Union of Jewish Universalist Communities at http://www.ujuc.org.
Sim Shalom, a non profit 501 © (3) tax-exempt organization, nurtures a Jewish connection through its mission of innovative services, creative education and dynamic outreach to the global community. For more information visit our website or call 201-338-0165.