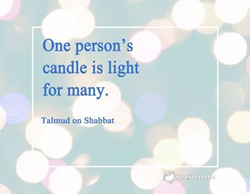 Bring your voice, a ukulele or guitar (not required) and a smile as we gather together to sing the songs of Christmas and Hanukkah.
NEW YORK (PRWEB) December 19, 2019
Pop on over to Sim Shalom Live and join Rabbi Steve Blane and guest Pastor Robert Brashear for a Holiday singalong at Bethesda Terrace in Central Park on Sunday, December 22nd. Since Hanukah and Christmas coincide this year it only makes sense to enjoy an interfaith celebration to welcome the season of lights.
The event is December 22nd from 2:00 - 3:00pm and is free but please visit here to register and for more information.
Hanukah is celebrated for eight days and is called the Festival of Lights to commemorate the miracle of oil that burned for eight days. Hanukkah is a holiday that commemorates the Jewish recapture and rededication of the Temple in Jerusalem in 164 BCE.
About Rabbi Blane and Sim Shalom:
Sim Shalom is an interactive online Jewish Universalist synagogue which is liberal in thought and traditional in liturgy. Created in 2009 by Rabbi Steven Blane on Manhattan's Upper West Side, Sim Shalom offers a means of connecting the unconnected. Rabbi Blane leads accessible and short Shabbat services every Friday night using a virtual interface and additionally Sim Shalom provides online education programs, Jazz concerts, conversion and life-cycle ceremonies along with weeknight services at 7:00PM EST led by Rabbis and students of this online community.
Rabbi Blane is also the founder and director of the Jewish Spiritual Leader's Institute, http://www.jsli.net, the online professional rabbinical program and the Union of Jewish Universalist Communities, a group of Rabbis who follow the tenets of Jewish Universalism, http://www.ujuc.org.
Sim Shalom, a non profit 501 © (3) tax-exempt organization, nurtures a Jewish connection through its mission of innovative services, creative education and dynamic outreach to the global community. For more information visit http://www.simshalom.com or call 201-338-0165.