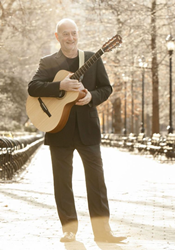 NEW YORK (PRWEB) April 16, 2019
Rabbi and Cantor Steven Blane of Sim Shalom Online Synagogue has a brand new album coming. "I Walk Alone," will be released on April 16, 2019. It's a collection of songs that Blane wrote and produced. He played all the instruments, recorded, mixed and mastered everything.
Blane says, "It's been cathartic. It's the closest I've come to getting what I really have heard in my head. "I Walk Alone" is an album comprised of 60's Rock & Roll, Jazz Story Songs" Read his first review here and access teasers to some of the songs.
The Huffington Post wrote, "Stylistically, Blane fits in the Americana category. But there's more going on in his music than simply Americana. There's a pop influence in there, along with a 1950's rock vibe that gives his sound a unique signature. It's much different from the usual run-of-the-mill stuff most bands turn out today."
As a young boy in Jersey City, his grandma stood him on a table at a Knights of Pythias Talent Show. Singing "Delilah," Tom Jones style, in front of a supportive audience left a profound effect on Steven. Years later, when college was over, he plotted his escape to NYC where he currently resides with his wife and dog Ari.
Blane is also a Cantor, Founder and Dean of Jewish Spiritual Leaders' Institute and Rabbi of Sim Shalom Online Synagogue where he combines his love of Judaism and music.
ABOUT SIM SHALOM
Sim Shalom is an interactive online Jewish Universalist synagogue which is liberal in thought and traditional in liturgy. Created in 2009 by Rabbi Steven Blane on Manhattan's Upper West Side, Sim Shalom offers a means of connecting the unconnected. Rabbi Blane leads accessible and short Shabbat services every Friday night using a virtual interface and additionally Sim Shalom provides online education programs, Jazz concerts, conversion and life-cycle ceremonies along with weeknight services at 7:00PM EST led by Rabbis and students of this online community.
Rabbi Blane is also the founder and director of the Jewish Spiritual Leader's Institute, http://www.jsli.net, the online professional rabbinical program.
Sim Shalom, a non profit 501 © (3) tax-exempt organization, nurtures a Jewish connection through its mission of innovative services, creative education and dynamic outreach to the global community. For more information visit http://www.simshalom.com or call 201-338-0165.