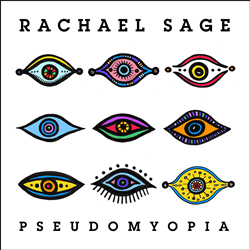 "…an entrancing collection of songs…unlike anything out there in this moment in time." - Songwriter Magazine
NEW YORK (PRWEB) March 25, 2019
Singer-songwriter, multi-instrumentalist and producer Rachael Sage has released her new acoustic album "PseudoMyopia" via MPress Records/ILS/Universal and premiered the album stream with M Music & Musicians Magazine. Listen and purchase "PseudoMyopia" here. Sage will support the album with a full schedule of performances throughout the year, including an official album release launch at NYC's prestigious Joe's Pub, which is celebrating its 20th anniversary season. See below for the full list of tour dates.
A companion acoustic album to Sage's critically acclaimed recording "Myopia", "PseudoMyopia" is a collection of 11 songs focusing on the concept of vision – including narrow mindedness – in all its many manifestations. Legally blind without corrective lenses, Sage balances the political and the personal with a striking depth and perspective. A multi-instrumentalist herself, she enlisted a diverse cast of guest musicians to bring a warm intimacy to these very timely tracks, touching on topics as varied as government surveillance, environmental protection, and female empowerment. Co-produced by Sage and Grammy® winner Andy Zulla, guest artists include Ben Butler (Sting), bassist Richard Hammond (Joan Osborne), cellist Ward Williams (Sara Bareilles) and Grammy® nominated musician Seth Glier.
Sage will head out on the road this Spring, with stops throughout the US and UK in support of "PseudoMyopia", which is available via iTunes and all major music platforms. An album release event with Rachael and her full band, The Sequins, will be held at Joe's Pub / NYC on April 18th. If you would like to be on the VIP guest list for the release party, attend any of her shows, or request a physical CD copy of "PseudoMyopia", please contact Tiina Teal: tiina@mpressrecords.com
CONNECT WITH RACHAEL SAGE
website | facebook | twitter| instagram | youtube | spotify
RACHAEL ON TOUR
*w/ celebrated BBC actress/performer Heather Peace
3.30.19 // Atomic Tom's // Binghamton, NY
4.12.19 // Daryl's House (w/ The Motels) // Pawling, NY
4.14.19 // The Burren // Boston, MA
4.18.19 // Joe's Pub (album release event) // New York, NY
4.26.19 // Eddie Owen Presents @ Red Clay Music Foundry // Duluth, GA
4.27.19 // Isis Restaurant & Music Hall // Asheville, NC
5.1.19 // Club Cafe // Pittsburgh, PA
5.9.19* // The Globe // Cardiff, UK
5.10.19* // The Met // Bury, UK
5.11.19* // Websters Theater // Glasgow, UK
5.13.19* // The Lemon Tree // Aberdeen, UK
5.14.19* // Cabaret Voltaire // Edinburgh, UK
5.15.19* // Waterside Arts Center // Sale, UK
5.16.19 // The Bedford // London, UK
5.30.19 // Hotel Cafe // Hollywood, CA
5.31.19 // The Lost Church // San Francisco, CA
6.1.19 // Studio 519 // Redondo Beach, CA
6.2.19 // Refugee House Concert // Visalia, CA
6.13.19 // Uncommon Ground // Chicago, IL
6.30.19 // Wortley Beer Festival // Barnsley, UK
7.5.19 // Cornbury Festival // Oxfordshire, UK
7.9.19 // Nice N Sleazy // Glasgow, UK
7.10.19 // The Exchange // North Shields, UK
7.11.19 // St. Cuthbert's Church // Bradford, UK
7.13.19 // Parafest // Caerwys, UK
7.14.19 // Percy's Cafe Bar // Whitchurch, UK
7.19.19 // Enchantica Festival // Cheltenham, UK
7.20.19 // Tucker's Grave Inn // Faulkland UK
ABOUT RACHAEL SAGE: Since founding her own label MPress Records two decades ago, NYC-based alt-pop artist Rachael Sage has steadily released a slew of vibrant, dynamic albums with poetic lyrics spanning subjects as wide as her inspirations. She has toured with an eclectic list of artists including Ani DiFranco, Beth Hart, Sarah McLachlan, Judy Collins and Howard Jones. Sage also continues to significantly grow her visibility via her many song placements, including 22 songs on top reality show "Dance Moms", translating into over 10 million YouTube hits. Her recent studio album "Myopia" was a bold departure for Sage, with a much stronger emphasis on her guitar playing over her signature piano palette. Produced by Sage and her longtime engineer, 2-time Grammy® Nominee John Shyloski, the album featured drummer Doug Yowell (Joe Jackson, Duncan Sheik), keyboardist Rob Curto (Lila Downes), trumpeter Russ Johnson (Elvis Costello, Deborah Harry) and bassist Mike Visceglia (Suzanne Vega). Sage is currently touring behind her new acoustic album "PseudoMyopia" in collaboration with the charity Vision Aid Overseas, which helps provide optical aid and services to developing countries in Africa. For more information, visit http://www.rachaelsage.com.
For more information on Rachael Sage, please contact:
Girlie Action Media
Pam Nashel Leto // pam@girlie.com // 212-989-2222 x111
Taylor Haughton // taylor@girlie.com // 212-989-2222 x119
MPress Records
Tiina Teal // tiina@mpressrecords.com // 212-481-7243
http://mpressrecords.com