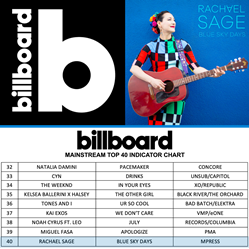 NEW YORK (PRWEB) July 07, 2020
"'Blue Sky Days' looks to become a hopeful anthem delivered just in the nick of time for all of us...It's a triumph of the human spirit that doesn't shy away from reminding us of what we're truly made of" — Pop Matters
"(Rachael Sage) is poised and purposed..., gifting her audience insight into her character as they encounter and discover their own." — Pop Magazine
Rachael Sage's "Blue Sky Days", from her critically acclaimed album Character, has just debuted on Billboard's Mainstream Top 40 Indicator Chart. This is the very first Billboard Chart appearance for Sage, whose music has received many other awards including 6 Independent Music Awards as well as the Grand Prize in the John Lennon Songwriting Contest. "Blue Sky Days" was co-produced by Sage and Grammy® winner Andy Zulla, recorded by Mikhail Pivovarov and mastered by Alan Silverman. The track can also be heard on a new deluxe vinyl release and as part of the 2 CD Deluxe Hardcover Book, which also includes the song on Character (Acoustic), a bonus disc of exclusive acoustic tracks.
Originally composed as a meditation on gratitude in the midst of her own cancer recovery, Sage's song – inspired by popular meditation app Headspace – has taken on new resonance during Covid-19 and the protests against racial injustice, offering hope for a better tomorrow. Sage, who has been writing songs since she was in kindergarten, excitedly thanked listeners on social media: "I'm so grateful that people have been responding to this message of hope in challenging times. I am especially grateful that Morgan Sage was such a big part of the visualization of this song, and for her beautiful skating in the video. Thank you to everyone for continuing to show this kind of love & support – and for allowing me to continue on this beautiful musical journey."
Rachael has been performing "Blue Sky Days" online via her twice-weekly Facebook Livestream sessions "Stay In With Sage" (benefitting New York-based charities), where listeners from all over the world have expressed how much the lyrics' uplifting imagery has been helping them stay positive and hopeful. She will also perform the song in the Virtually Green Note concert series July 10th (3 pm EST/8 pm UK).
For interviews, press photos or more information, please contact:
Jill Richmond Johnson | jillr@mpressrecords.com | 212-481-7243
ABOUT RACHAEL SAGE
A soulful vocalist and innovative multi-instrumentalist, NYC-based singer/songwriter Rachael Sage has earned a loyal following for her dynamic piano playing, delicate guitar work, and improvisational audience interaction. She has toured with an eclectic list of artists including Howard Jones, Ani DiFranco, Judy Collins, Beth Hart, and Shawn Colvin. Her brand-new album Character is a song cycle written in the midst of her own recent recovery from cancer, that has taken on new and unexpected resonance during Covid-19. Throughout the album Sage reflects on gratitude, compassion, authenticity and optimism, questioning what comprises character, and lifting herself up in the process. For more information, visit rachaelsage.com.