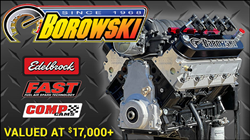 RacingJunk helps racers and enthusiasts buy, sell, and trade their vehicles, trailers, engines and parts to fulfill their race and performance dreams. A Borowski race engine is often the epitome of those dreams.
NORTH ADAMS, Mass. (PRWEB) November 01, 2021
RacingJunk.com, the world's #1 online race and performance marketplace, award-winning custom race engine maker Borowski Race Engines, and COMP Cams, one of the world's top manufacturer of aftermarket engine parts are pleased to announce a chance for race and performance enthusiasts to win a custom 700 HP, 408 cubic inch, naturally-aspirated Borowski LS Street Engine featuring top end parts and EFI system from COMP Cams and their sister companies RHS and FAST.
Launching on November 1, 2021 at the 2021 SEMA show, the engine giveaway contest celebrates the power of the race community as embodied in this high power, high performance engine. RacingJunk, long known for its support of the grassroots and professional race community, has been a longtime partner and collaborator with Borowski Race Engines. As the flagship site for the Internet Brands Auto Classifieds division, RacingJunk helps racers and enthusiasts buy, sell, and trade their vehicles, trailers, engines and parts to fulfill their race and performance dreams. A Borowski race engine is often the epitome of those dreams.
"Borowski makes legendary drag race and high performance engines," says Scott Stetz, Director of Sales and Business Development for the Internet Brands Auto Classifieds division, "And our longtime partnership with the business, including Joe McCaul, the owner, and his son Ken, means that we are not only thrilled to partner on this giveaway, but to support their efforts at reaching more racers and enthusiasts. We've seen what these engines can do in project cars and race cars, and it's never less than astonishing. COMP Cams products have been featured in this engine since its inception and key to achieving the amazing level of power and performance. This piece will be a real gift for the winning enthusiast."
The engine is a 700 HP LS Street Engine valued at approximately $17,000. It features a FAST XFI Sportsman EFI Engine Control System, a custom COMP Cam & BSR Shaft Rockers, FAST LSXR Intake & 102MM Throttle Body, FAST XR-1A High-Output Ignition Coils, and RHS LS3 Cylinder Heads that were ported on Borowski's 5-axis CNC.
"We introduced the 700 horsepower LS engine just over a year ago and it has become our best seller," explains Joe McCaul, owner and CEO of Borowski Race Engines, Inc. "The engine embodies our state-of-the-art CNC machining. Coupled with their parts selection, it allows this naturally-aspirated engine to achieve power levels that the OE's can hit only with superchargers. This engine is Plug & Play thanks to its FAST engine management system which comes with the tune from the Borowski dyno session. And boy does this piece ever look good! Power, great drivability, ease of installation and a real head turner. What more could you ask for?"
The giveaway will launch on Nov. 1, 2021 and run through July 31, 2022, with the engine on display at the SEMA 2021 show in the RacingJunk booth (#24629) as well as at the booth at the Performance Racing Industry show in Indianapolis, IN in December.
To enter the giveaway, click here: Enter to Win a Borowski Custom LS1 Engine with Custom COMP Cam Parts
***
The Internet Brands Auto Classifieds Group
The Internet Brands Auto Classifieds group is a collection of Auto Classifieds websites including RacingJunk.com, HotRodHotline.com, OldRide.com and CollectorCarNation.com. The vertical focuses on auto racing and performance, hot rods, classic and collectible vehicles & parts, as well as trailers and RVs.
Borowski Race Engines
Based out of Joliet, IL, Borowski Race Engines has been building custom engines for street and strip since 1968. Their all-CNC machining capabilities are state-of-the-art. They now focus on high performance LS engines and sale of related parts for street, race, off-road and marine applications. Borowski Race Engines LS product line includes a broad range of naturally-aspirated and boosted engines to 3,500 horsepower.
COMP Cams
For more than 35 years, the COMP Cams® mission has never changed: to produce the highest-performing products possible, provide customers with superior service, and to lead the industry in technological development. While the COMP Performance Group™ has grown to multiple companies and hundreds of employees, we still retain the competitive spirit and desire to be the very best that has positioned COMP Cams® as the absolute leader in valve train components.