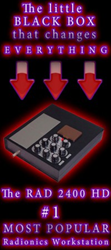 The RAD 2400 HD is the top of the line radionics machine and workstation that is perfect for professionals and beginners alike. It is a very powerful unit with a large array of features and applications
Dallas, TX (PRWEB) May 31, 2014
Radionics Box announces availability of the RAD 2400HD orgonite powered orgone radionics machine and workstation. The RAD 2400HD is an HD class device that contains a large orgonite core, trend and target wells and controls, a selectable pulse frequency and large silver output pipe. Additionally The RAD 2400 HD radionics device has a sound input jack connected to a second generator inside. This feature allows users to connect an audio CD, MP3 player or PC sound output to drive the second generator that effectively doubles the output of the device.
The latest RAD 2400HD is available for immediate delivery from RadionicsBox.com. The RAD 2400 HD has an integrated chi generator with a user selectable frequency control with settings that include 3.5Hz, 6.3Hz, 7Hz, 7.83Hz, 10Hz, 14Hz and "right". When "right" is selected a second knob is activated allowing a sweeping frequency selector. Accessories for the RAD 2400 HD radionic device include the large pipe version of the PBT2400 power booster and the PBTBH male enhancement power booster.
"The RAD 2400 HD is the top of the line radionics machine and workstation that is perfect for professionals and beginners alike. It is a very powerful unit with a large array of features and applications. When paired with the manifestation series software, such as Super Manifestation Ultimate 2.0 or Manifestation Pro, the RAD 2400HD becomes a software based radionics workstation," says Mike DeVino, radionics device expert.
The RAD 2400HD radionics machine and orgone generator with orgonite core is available from RadionicsBox.com with free shipping to the USA. For more information about radionics, orgone generators and the RAD 2400HD visit their website at radionicsbox.com.