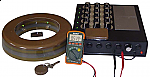 The RAD-5 is for the user that desires a massive power output that allows for rapid radionics operations backed by tremendous orgone output
Dallas, TX (PRWEB) May 31, 2014
Radionics Box introduces the 2014 RAD 5 radionics machine with massive donut shaped 5-generator orgonite ring. The RAD-5 is orders of more powerful than other devices by orders of magnitude. The RAD-5 radionic device consists of two parts. The first part is the control box, which contains the knobs for setting frequency, input terminals for the frequency meter, the power switches and the trend and target plates. The second component to the system is the large donut shaped orgonite ring which houses the generators and has 5 silver output pipes that point toward the center of the ring.
"The RAD-5 is for the user that desires a massive power output that allows for rapid radionics operations backed by tremendous orgone output. When coupled with the radionics software programs like Manifestation Pro and Super Manifestation Ultimate 2.0 the RAD-5 radionic device becomes a massive professional workstation with extraordinary versatility. Anyone interested in a top-of-the-line radionics device should visit RadionicsBox.com and check out the RAD-5 radionics machine or contact radionics box by email store(at)radionicsbox(dot)com.", says Mike DeVino radionics expert and RAD-5 user.
The RAD 5 radionics machine and orgone generator with orgonite ring is available from RadionicsBox.com with free shipping to the USA. For more information about radionics, orgone generators and the RAD 5 visit their website at radionicsbox.com.