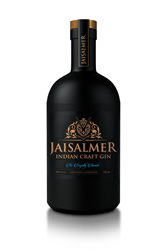 "We're proud to be launching the first Indian Craft Gin in the U.S. and are excited to communicate the colorful history and heritage of the brand. The product is a result of Indian craftsmanship, and Jaisalmer's taste and quality speaks for itself. It's like an oasis in the desert."
NEW YORK (PRWEB) May 10, 2019
Radico Khaitan, one of the largest Indian beverage alcohol companies, is excited to announce the launch of Jaisalmer Indian Craft Gin in the U.S. Adding to their current portfolio, which includes award-winning Rampur Select Single Malt Whisky, the gin encapsulates the rich heritage and history of the Indian city of Jaisalmer.
Jaisalmer Indian Craft Gin is triple-distilled in a copper pot still in small batches at the Rampur Distillery, one of India's oldest distilleries, located in the foothills of the Himalayas. The 43% ABV drink sources Indian botanicals from the four corners of the country, including India's famed Darjeeling green tea leaves, coriander, orange peel, cubeb pepper berries, lemongrass, and lemon peel and more. Derived from the ancient Indian knowledge on herbs, the botanicals beautifully release notes that complement each other.
Sanjeev Banga, President at Radico Khaitan says, "We're proud to be launching the first Indian Craft Gin in the U.S. and are excited to communicate the colorful history and heritage of the brand. The product is a result of Indian craftsmanship, and Jaisalmer's taste and quality speaks for itself. It's like an oasis in the desert." Susy Atkins, Gin Expert, Three Wine Men adds, "[It's a] delicious, complex and balanced gin – softly spiced with a fine, full, long finish."
The bottle's impressive design is a nod to the city's kings and queens. Jaisalmer is known as the "Golden City of India," which is reflected in the elegant and refined packaging. Inspired by royalty, each bottle harks back to the imperial age and calls for moments of leisure and pleasure.
Jaisalmer Indian Craft Gin is currently available in the U.S. with a suggested retail price of $50 for a 750 ml bottle. For more information on the product and current distribution information, please contact Alisha Zaveri or Zach Groth at Colangelo & Partners.