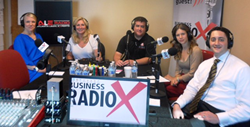 The web of laws governing the alcohol industry is both complex and vast...
Atlanta, GA (PRWEB) June 24, 2014
Atlanta Legal Experts aired on June 17, 2014 with host Emily Rowell, and welcomed guests Taylor Harper with Taylor, Feil, Harper, Lumsden & Hess P.C., Nancy Palmer with the Georgia Craft Brewers Guild, Tommy Williams with Independent Distilling Company and Eleanor Benson with Moondog Growlers. The four guests met in the Buckhead Business RadioX studio to discuss Georgia alcohol and beer regulations as well as independent brewers and distilleries.
Taylor Harper is a practicing lawyer with Taylor, Feil, Harper, Lumsden & Hess, P.C. His firm's focus is primarily on the hospitality and alcoholic beverage industries. Specifically, Mr. Harper assists breweries, wineries, distilleries, importers, brokers, wholesalers, hotels, restaurants, package stores, and others in beverage alcohol administrative and regulatory matters at the federal, state, and local levels.
"The web of laws governing the alcohol industry is both complex and vast, with three levels of jurisdiction," explained Harper.
Nancy Palmer is the Vice President of the Georgia Craft Brewers Guild and the founder and president of Cork & Key beverage consulting company. The Guild is organized to promote, protect and further, in every lawful manner, the common interests of the members and the licensed brewing industry in Georgia. To promote craft brewers, Palmer and the Guild have recently been working on allowing off-premise sales for craft brewers.
Tommy Williams is the Chief Operating Officer of Independent Distilling Company (IDC) located in Decatur, GA. IDC is the first legal distillery in the Metro Atlanta Area since Prohibition. The company is currently focusing on whiskey and rum which they have recently begun shipping to their distributor for introduction into the market.
Eleanor Benson is the Co-Owner of Moondog Growlers, a craft beer brewing company that has 3 locations and over 100 taps. Moondog Growlers sells 32 ounce growlers that are bought only once and then are brought back to one of the 3 locations to refill with another choice of beer. With a legal background, Benson is aware of the challenges brewers and craft beer retailer's face.
To learn more about these featured guests, listen to the entire interview on Atlanta Legal Experts.
About Atlanta Legal Experts:
http://ale.businessradiox.com/
Atlanta Legal Experts reaches out to all attorneys and associates in the legal field and provides much needed information including discussion of the most relevant topics of today's legal world. Our guests consist of attorneys who are experts in their field, representatives of the local legal associations, and a mix of legal professors, authors, and speakers to provide the audience with a resource of beneficial information. Atlanta Legal Experts airs weekly on Tuesdays at 8 AM Eastern and is hosted by Emily Rowell. Podcasts are available for download after each live show.
About Business RadioX®:
BusinessRadioX® interviews dozens of innovative entrepreneurs and successful leaders each week. Its mission is to help local businesses Get The Word Out about the important work they're doing for their market, their community, and their profession. With a pro-business slant and a long-form interview format, guests don't have to worry about being ambushed or talking in "sound bites." Guests have enough time to tell their whole story and to share their insights and experience without interruptions. BusinessRadioX® hosts are business professionals interviewing their peers, drilling down on the critical issues, and delivering practical information to an engaged business audience. Business topics that are frequently covered include: Law, Finance, Healthcare, Technology, Trade Shows, B2B Marketing, Venture Capital, Training and Development and other issues impacting the business community. For more information, visit: http://www.businessradiox.com.