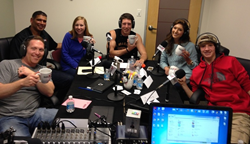 Real legacy leaders are people who share their wisdom and hope with others...
Atlanta, GA (PRWEB) May 16, 2014
Jack Perry, Jr., Host of Legacy Leaders Radio on BusinessRadioX®, radiates the airwaves with guests that share their most intimate thoughts and motivations about helping others create a lasting legacy in business and the community.
"Real legacy leaders are people who share their wisdom and hope with others, so they too can overcome great adversity and become the next generation of legacy leaders," said Jack Perry, Jr. "Our recent shows highlight teenagers who lead by example, business educators creating more meaningful careers, and an organization providing 'grace' to people that have fallen into the wrong hands."
Do you ever wonder what teenagers are thinking? On Legacy Leaders Radio in April, Jack brought on the radio four young adults and asked the hard questions, such as peer pressure, social media, and what the future looks like for them. Also in April, Jack invited two recognized business educators, Mark Josie and Doug Puzey, who introduced the listeners to FranklinCovey's "7 Effective Habits 4.0," the latest update to the time-tested philosophies of many great business leaders.
Dovetailing show guests Mark Josie and Doug Puzey with FranklinCovey, Robert Bagley, sales trainer with Mohawk Industries, spoke with Jack about his experience with FranklinCovey, and the lessons he has practiced to see all-around positive results with his company and its culture.
Cheryl Deluca-Johnson, President and CEO of Street Grace was Jack's guest on May 2, teaching the listeners about domestic minor sex trafficking. Cheryl, a true legacy leader, is on a mission to end minor sex trafficking in Metro Atlanta and throughout the United States by organizing people and organizations for the cause.
BusinessRadioX® provides Legacy Leaders Radio listeners complete technology resources, including show archives with podcast, live radio broadcast, Free iTunes downloads, syndication on BIZ 1190 Wall Street Business Network Radio, and photographs of the guests.
Jack Perry, Jr., as a public speaker and keynote event speaker, is featured in the May 2014 issue of Speaker Magazine, the official magazine of the National Speakers Association. For more information, visit speakermagazine.com
To learn more about these featured guests, tune in to Legacy Leaders Radio.
About Legacy Leaders Radio:
http://legacyleaders.businessradiox.com/
Legacy Leaders Radio, with host Jack Perry, Jr., highlights today's thought leaders and decision makers who understand even small actions and behaviors affect many people in the course of history in the making. These thought provoking discussions reveal what motivates people to create greater good in their homes and society, while considering what legacy we all want to leave as our life's work. Legacy Leaders Radio airs every Friday at 1:00pm EST.
About Business RadioX®:
BusinessRadioX® interviews dozens of innovative entrepreneurs and successful leaders each week. Its mission is to help local businesses Get The Word Out about the important work they're doing for their market, their community, and their profession. With a pro-business slant and a long-form interview format, guests don't have to worry about being ambushed or talking in "sound bites." Guests have enough time to tell their whole story and to share their insights and experience without interruptions. BusinessRadioX® hosts are business professionals interviewing their peers, drilling down on the critical issues, and delivering practical information to an engaged business audience. Business topics that are frequently covered include: Law, Finance, Healthcare, Technology, Trade Shows, B2B Marketing, Venture Capital, Training and Development and other issues impacting the business community. For more information, visit: http://www.businessradiox.com.