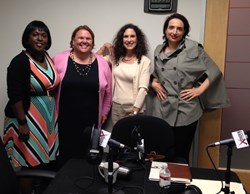 NAWBO was founded in 1975 to represent the interests of women business owners...
Atlanta, GA (PRWEB) September 27, 2013
On September 24, 2013, guest host Dana Barrett of Results Matter Radio on Business RadioX® was joined in the studio by Nancy Chorpenning with C-Suite Advisors, Dorothéa Bozicolona-Volpe, Jill Peck with Henderson Shapiro Peck, Inc., Tonya Hicks with Power Solutions, Inc. and Linda Hughes with GreatRidge to discuss NAWBO - the National Association of Women Business Owners.
NAWBO is the oldest and largest business membership organization exclusively for women entrepreneurs who own their business. NAWBO was founded in 1975 to represent the interests of women business owners particuarly in public policy matters that impact thier businesses, including the Women's Business Ownership Act. Today NAWBO has 5,000 members across chapters nationwide. The NAWBO Atlanta Chapter was formed in 1997 and meets monthly on second Thursdays at The Buckhead Club for a business education program and lunch.
First to discuss her role with NAWBO was Nancy Chorpenning, Founder and Managing Director of C-Suite Advisors, a business advisory practice helping business owners, especially women entrepreneurs, grow their companies by planning and focusing on the right priorities. Chorpenning is a Director on the National Board of NAWBO where she serves as Chair of the Governance Committee. "I have been a member of NAWBO since I started my business, and served on the Board of the Atlanta Chapter for six years, including as Chapter President."
Dorothéa Bozicolona-Volpe is a strategic digital marketing executive who specializes in developing business for international brands (Fortune 500) by initiating and integrating social media and digital strategies and enterprise social networking. Volpe is a new NAWBO member, and is presently leading a social media effort to engage interest in NAWBO's upcoming Women's Business Conference in Miami, happening October 3-5 this year.
Next on the panel was Jill Peck, Vice-President and COO for Henderson Shapiro Peck, Inc., a relationship-driven, award winning marketing and business support company. According to Peck, "Our areas of practice include healthcare, bioscience, pharma, communications/technology, publishing and non-profit."
Tonya Hicks is founder and President of Power Solutions, Inc., a 13-year old commercial electrical contracting and engineering firm in Atlanta. Hicks became the first woman journeyman electrician in the International Brotherhood of Electrical Workers in Meridian, Mississippi in 1994.
Rounding out the discussion was Linda Hughes, the CEO of GreatRidge, a consulting company focused on helping companies grow to meet their potential. Hughes founded GreatRidge in 2008 after a 25 year career including leadership positions at companies such as The Coca-Cola Company, AIG, and NorthHighland. Hughes has been a member of NAWBO for over 3 years and is currently serving as the President of the NAWBO Atlanta chapter.
To learn more about NAWBO and these featured guests, listen to the complete interview on Results Matter Radio.
About Burr & Forman's Results Matter Radio:
http://resultsmatterradio.businessradiox.com/
Results Matter Radio brings you pertinent business information and real life solutions to help drive desired results – whatever your business may be. We interview Business Leaders and Trusted Advisors about the most important issues in Commercial Real Estate, International Commerce, Healthcare, Family Business, Corporate Litigation, Finance, Philanthropy, Estate Planning, and more.
About Business RadioX®:
BusinessRadioX® interviews dozens of innovative entrepreneurs and successful leaders each week. Its mission is to help local businesses Get The Word Out about the important work they're doing for their market, their community, and their profession. With a pro-business slant and a long-form interview format, guests don't have to worry about being ambushed or talking in "sound bites." Guests have enough time to tell their whole story and to share their insights and experience without interruptions. BusinessRadioX® hosts are business professionals interviewing their peers, drilling down on the critical issues, and delivering practical information to an engaged business audience. Business topics that are frequently covered include: Law, Finance, Healthcare, Technology, Trade Shows, B2B Marketing, Venture Capital, Training and Development and other issues impacting the business community. For more information, visit: http://www.businessradiox.com.