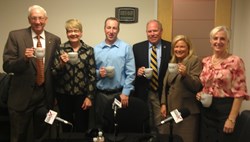 Recognize individuals who demonstrate character in leadership.
Atlanta, GA (PRWEB) October 31, 2013
On October 29, 2013, co-hosts Lee Kantor and Stone Payton of Results Matter Radio on Business RadioX® welcomed to the studio Bob and Lyn Turknett with Turknett Leadership Group to spotlight this year's Turknett Leadership Character Award Winners.
Turknett Leadership Group specializes in the assessment and development of executive leadership and organization effectiveness. Founded in 1987, the firm is a leader in using sophisticated proprietary assessment tools and long-term, personalized coaching to develop successful leaders and organizations. Turknett's professional staff brings both depth and breadth to its clients by combining expertise in the behavioral sciences with practical business and executive management experience. The key to successful interventions is accurate individual and organizational diagnosis. Their proprietary assessment tools and the experience and expertise of its consultants ensure accurate diagnosis and the design of effective interventions.
Since 2003, the Turknett Leadership Character Awards have recognized individuals who demonstrate character in leadership by maintaining integrity while consistently balancing respect and responsibility. This year's awards program was held on September 18th at the Georgia Aquarium.
Joining the Turknetts in the studio were several recipients of this year's awards. First up was Jim McGarrah, winner in the Education category. McGarrah serves as the Chief of Staff for the Georgia Tech Research Institute (GTRI), where he coordinates executive staff actions in the planning and execution of GTRI and Georgia Tech strategy, strategic communications, policy analysis and input, and ethics and compliance. He also serves as GTRI's principal point of contact for state and federal government relations, and coordinates GTRI's external advisory councils and boards.
Also featured was Kathy Colbenson, winner in the Non-Profit category. Colbenson is the CEO of CHRISkids which offers a values-driven Family of Services that provides trauma-informed, strength-based services through a counseling center, a training institute, eight group homes, a supportive housing apartment complex for single and parenting youth of ages 17 – 24, adoption services, and a host of in-home services designed to help children, youth, adults and families unlock their potential for self sufficiency and good citizenship.
Andy Lipman was the Turknett Leadership winner in the Inspiritor category. Lipman founded Wish for Wendy, an organization dedicated to the memory his sister, who died as an infant from complications of cystic fibrosis. Lipman's wish for Wendy is that people with cystic fibrosis no longer have to struggle with this disease.
Rounding out the panel was Marci McCarthy, winner in the Small/Medium Company category. McCarthy is the CEO and President of T.E.N., an award winning technology and information security executive networking and relationship-marketing firm. She is responsible for driving the strategic direction of this widely respected company.
To learn more about the Turknett Leadership Group and these distinguished guests, listen to the complete interview on Results Matter Radio.
About Burr & Forman's Results Matter Radio: http://resultsmatterradio.businessradiox.com/
Brought to you by Burr & Forman LLP, Results Matter Radio brings you pertinent business information and real life solutions to help drive desired results – whatever your business may be. We interview Business Leaders and Trusted Advisors about the most important issues in Commercial Real Estate, International Commerce, Healthcare, Family Business, Corporate Litigation, Finance, Philanthropy, Estate Planning, and more.
About Business RadioX®:
BusinessRadioX® interviews dozens of innovative entrepreneurs and successful leaders each week. Its mission is to help local businesses Get The Word Out about the important work they're doing for their market, their community, and their profession. With a pro-business slant and a long-form interview format, guests don't have to worry about being ambushed or talking in "sound bites." Guests have enough time to tell their whole story and to share their insights and experience without interruptions. BusinessRadioX® hosts are business professionals interviewing their peers, drilling down on the critical issues, and delivering practical information to an engaged business audience. Business topics that are frequently covered include: Law, Finance, Healthcare, Technology, Trade Shows, B2B Marketing, Venture Capital, Training and Development and other issues impacting the business community. For more information, visit: http://www.businessradiox.com.