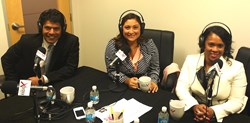 Georgia small businesses are matched with the nation's leading Fortune 500 corporations for one year of exclusive mentorship.
Atlanta, GA (PRWEB) November 14, 2013
On November 12, 2013, co-hosts Lee Kantor and Stone Payton of Results Matter Radio on Business RadioX® welcomed to the studio Veronica Maldonado with the Georgia Mentor Protégé Connection, Karmetria Burton with Delta Air Lines and Syed Ahmed with VDart.
As the first state-sponsored mentor-protégé program in the United States, the Georgia Mentor Protégé Connection (MPC), currently administered under the Georgia Education Foundation in partnership with the State of Georgia and the Georgia Technology Innovation Institute, gives emerging firms one year of exclusive mentorship with the nation's leading corporations.
Veronica Maldonado is the program director of the Georgia MPC. According to Maldonado, "Georgia small businesses are matched with the nation's leading Fortune 500 corporations for one year of exclusive mentorship." The program is based on one premise: that while emerging firms build relationships, explore new technologies, and learn best practices to take their business to the next level, corporations help lead a path to sustainability, progress and economic growth for the Georgia business community.
As a dynamic Latina community business leader, and an expert in fostering strategic alliances, creating win-win negotiations and implementing effective marketing strategies to increase brand value throughout the pipeline, Maldonado is uniquely qualified to lead the MPC program.
Touted as one of the Top 25 Women Impacting Diversity by DiversityPlus Magazine over the past two years, Karmetria Burton is igniting an inspirational fire among women and men in the corporate world. Burton currently serves as General Manager of Strategic Programs with Delta Air Lines, and served as MPC mentor to Syed Ahmed during the past year.
MPC alumnus Syed Ahmed is the President and CEO of VDart, Inc., a leading information technology staffing firm headquartered in Atlanta. In little more than five years, it has transformed from a brand new firm to a major player on the IT services landscape. Founded in 2007, VDart is focused on the core objective of finding the right IT professional with the perfect mix of skills and experiences to meet the client's business objectives.
To hear these guests' firsthand experiences with MPC, as well as the value it brings to the Georgia small business community, listen to the complete interview on Results Matter Radio.
About Burr & Forman's Results Matter Radio: http://resultsmatterradio.businessradiox.com/
Brought to you by Burr & Forman LLP, Results Matter Radio brings you pertinent business information and real life solutions to help drive desired results – whatever your business may be. We interview Business Leaders and Trusted Advisors about the most important issues in Commercial Real Estate, International Commerce, Healthcare, Family Business, Corporate Litigation, Finance, Philanthropy, Estate Planning, and more.
About Business RadioX®:
BusinessRadioX® interviews dozens of innovative entrepreneurs and successful leaders each week. Its mission is to help local businesses Get The Word Out about the important work they're doing for their market, their community, and their profession. With a pro-business slant and a long-form interview format, guests don't have to worry about being ambushed or talking in "sound bites." Guests have enough time to tell their whole story and to share their insights and experience without interruptions. BusinessRadioX® hosts are business professionals interviewing their peers, drilling down on the critical issues, and delivering practical information to an engaged business audience. Business topics that are frequently covered include: Law, Finance, Healthcare, Technology, Trade Shows, B2B Marketing, Venture Capital, Training and Development and other issues impacting the business community. For more information, visit: http://www.businessradiox.com.