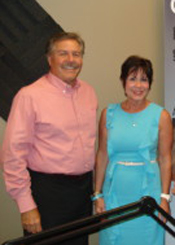 Our professionals maintain expertise in all areas of HR...
Atlanta, GA (PRWEB) July 23, 2013
On July 17, 2013, co-hosts Nikole Toptas and Dominick Rainey of BusinessRadioX®'s Silver Lining in the Cloud sat down with Greta Cairns from SCI Companies to discuss human resources consulting.
Greta Cairns is the Director of Atlanta Operations for SCI Companies. Cairns holds a key role in assuring a constant alignment to the strategic business goals of SCI. Having been with SCI since 1993, her diverse experience and Human Resources expertise positions SCI to effectively address client concerns, engage in strategic initiatives and advocate the value of SCI's scope of services.
SCI is a Human Resource Provider specializing in offering solutions to help companies leverage the full potential of their human capital. SCI offers professional HR and business consultation, Human Resource Information Technology, HR administration in the areas of payroll, benefits, workers' compensation, performance management, talent acquisition and efficient processes to help maintain compliance with both state and federal regulations.
According to Cairns, "Our professionals maintain expertise in all areas of HR to support companies at every stage of their life cycle." Cairns went on to explain that SCI has developed innovative services designed to allow businesses to focus on their core areas of performance in order to fully support the business goals of the organization.
To learn more about Greta Cairns and the services offered by SCI Companies, listen to this interview in its entirety at Silver Lining in the Cloud.
About Silver Lining in the Cloud:
http://www.silverlining.businessradiox.com
Silver Lining in the Cloud is presented by Computer Design and Integration. Silver Lining in the Cloud is an open forum show that highlights and promotes many of Atlanta's top businesses and business leaders. Guests hone in on what is the silver lining that their business offers to the community, how they are making a difference and celebrating their success.The show airs on Wednesdays at 10:00am EST and is co-hosted by Nikole Smith-Toptas and Dominick Rainey.
About Computer Design and Integration:
Computer Design & Integration LLC (CDI) provides data center infrastructure design, integration and support for businesses' evolving needs while simplifying complex information technologies. The company offers advanced technology strategies with a particular focus on highly available data center solutions. Their dedicated managed services staff offers businesses scalability to ensure the highest degree of completion success and on-time performance. Founded in 1995, with locations in NY, NJ, Atlanta and Charlotte, CDI has been recognized as one of the nation's top 500 IT solution providers. For more information, visit http://www.cdillc.com/ or Twitter @cdillc
About BusinessRadioX®:
BusinessRadioX® provides a turnkey solution for business owners who want to leverage the power of internet radio to meet their best prospects, establish credibility for their organization and heighten the placement of their brand in search engines rankings. With a professional venue and a proven formula, BusinessRadioX® helps hosts podcast their shows and create a regular stream of dynamic content to share with their prospects and feed the search engines every week. Programs are recorded and streamed live to the internet from our studios in the greater Atlanta area. For more information or to hear a live show, visit: http://www.businessradiox.com.