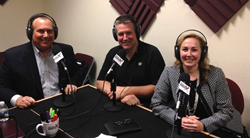 The Greater Atlanta Chapter...considers itself the premier community for Georgia workplace learning and performance improvement professionals.
Atlanta, GA (PRWEB) April 28, 2014
Board Members from the American Society for Training and Development (ASTD) Greater Atlanta Chapter were interviewed on the April 16, 2014 Special Edition episode of Learning Insights by co-hosts Lee Kantor and Stone Payton.
The ASTD provides its members with skills and expertise necessary to grow professionally and successfully. The Greater Atlanta Chapter is a non-profit association that was established in 1955, and considers itself the premier community for Georgia workplace learning and performance improvement professionals.
David Adelman, VP of Community Relations, Julie Padgett, Director of Communications, and Tim Schneller, Director of Community Relations all appeared on the show. Padgett was interviewed on the new Goodwill of North Georgia project in which ASTD is participating.
"Our focus with this Goodwill project is putting people to work," Padgett explained. "We offer four basic classes at two convenient locations. These classes teach basic computer skills with the main focus being getting people back to work."
Padgett has worked for ASTD for the last four years. She has worked with Home Depot for the last twelve years, now facilitating online classes to train store associates. Padgett also serves as Instructor Coordinator at the Woodstock location of Goodwill of North Georgia.
To learn more about ASTD and these featured guests, you can listen to this interview in its entirety on Learning Insights.
About Learning Insights Radio:
http://www.learninginsights.businessradiox.com
Learning Insights airs weekly on Wednesdays at 10am EST. Co-hosts Lee Kantor and Stone Payton interview learning professionals Improving Performance to Drive Business Results. Learning Insights is sponsored by TrainingPros.
About Business RadioX®:
BusinessRadioX® interviews dozens of innovative entrepreneurs and successful leaders each week. Its mission is to help local businesses Get The Word Out about the important work they're doing for their market, their community, and their profession. With a pro-business slant and a long-form interview format, guests don't have to worry about being ambushed or talking in "sound bites." Guests have enough time to tell their whole story and to share their insights and experience without interruptions. BusinessRadioX® hosts are business professionals interviewing their peers, drilling down on the critical issues, and delivering practical information to an engaged business audience. Business topics that are frequently covered include: Law, Finance, Healthcare, Technology, Trade Shows, B2B Marketing, Venture Capital, Training and Development and other issues impacting the business community. For more information, visit: http://www.businessradiox.com.