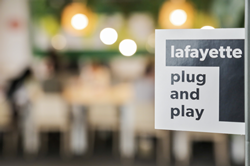 "The opportunity to work in unison with the Lafayette Plug and Play's ecosystem of corporate partners will be invaluable to honing our product and expanding further in the European market." - Sandeep Bhanote
PARIS (PRWEB) March 04, 2020
Lafayette Plug and Play - the leading European Retail Business Accelerator, born through a partnership between Galeries Lafayette Group and Silicon Valley-based startup accelerator Plug and Play Tech Center, is joined by fifteen other retail industry tech startups.
The Lafayette Plug and Play methodology allows startups and scaleups to, under one roof, boost their business development by connecting with decision-makers at leading retailers, learn from high-level mentors on a weekly basis and engage with Plug and Play's global network.
Radius8 was previously part of Plug and Play's in house accelerator during the fall of 2018. The Plug and Play team immediately saw that Radius8's unique offering, serving up hyper-local digital content would be a natural fit for the Paris-based business accelerator and its ecosystem of 16 corporate partners, all French and European leading brands & retailers.
"Being part of the Plug and Play ecosystem has been a tremendously valuable opportunity for Radius8," said Radius8 CEO and Co-founder Sandeep Bhanote. "The opportunity to work in unison with the Lafayette Plug and Play's ecosystem of corporate partners will be invaluable to honing our product and expanding further in the European market."
About Lafayette Plug and Play
As the first innovation platform fully dedicated to the transformation of the retail industry, Lafayette Plug and Play was born through a partnership between the Galeries Lafayette group and the Californian accelerator Plug and Play Tech Center. Since its creation, 16 other leading names in the retail industry have joined in order to boost their digital and cultural transformation. Lafayette Plug and Play, which occupies a 1,000 sq. meter innovation
workspace in the heart of Paris, connects retail corporations with the best-suited French start-ups and international scale-ups so they can accelerate their digital transformation and optimize their results, with a view to creating a virtuous ecosystem in the French and European markets. Lafayette Plug and Play has two annual intakes, and offers entrepreneurs a tailored and supervised three-month business acceleration program.
Learn more on lafayetteplugandplay.com.
About Radius8
Radius8 is a local engagement platform that delivers hyper-local digital experiences to create new commerce opportunities for any enterprise with physical locations and digital channels. These experiences are now table stakes to meet today's industry standards and consumer expectations and allow you to improve profitability by increasing consumer engagement. Radius8 can generally be implemented in less than 30 days regardless of an enterprise's technology stack, without investing in new infrastructure. Customers who have adopted Radius8's technology include adidas, John Varvatos, Lucky Brand Jeans, Orvis, and many more.