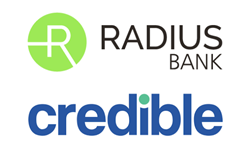 BOSTON (PRWEB) October 17, 2019
Radius Bank, an industry-leading digital bank, today announced it has expanded its digital marketplace for consumer account holders to include Credible, the online marketplace where borrowers can find competitive loan offers from multiple, vetted lenders in real time. Through this partnership, consumers can source competitive rates for student loans, student loan refinancing and personal loans through the Radius website. Radius Bank customers also check rates for student loan refinancing through Radius Online Banking and the Radius Mobile app.
When searching for the newest addition to the digital marketplace, Radius sought a partner that would help support its mission to deliver superior products and services to help clients meet their financial goals. Credible has become the leading online loan marketplace by providing instant access to actual rates from more than three dozen lenders. Credible's marketplace integrations with credit bureaus and lenders make it easy for consumers to request rates without hurting their credit score or putting their personal information at risk.
"Competition among lenders benefits consumers, but only if they compare rates," said Radius Bank's Vice President of Strategic Partnerships and Technology, Huma Usmani. "We are pleased to offer a solution that can help our customers save money not only when they take out loans, but to manage their existing debt wisely."
Interest rates are constantly on the move, and Credible has seen a growing number of consumers take out personal loans to pay off high-interest credit card debt. The Credible marketplace allows consumers with existing student loans or mortgage debt to see if they could save money by refinancing at a lower interest rate.
"Our ability to provide actual, pre-qualified rates helps the Credible marketplace stand out from traditional rate comparison sites, which only display marketed rates or rate ranges," said Credible's Vice President of Partnerships and Business Development, Dave Lewis. "Our unbiased and transparent approach to lending is proving attractive to partners like Radius who share our consumer-centric values."
Providing customers with access to the Credible marketplace is the latest example of Radius' commitment to strategically partner with fintechs to deliver an enhanced digital banking experience. To learn more about Radius and its strategic partnerships, visit https://radiusbank.com/company/partnerships/.
Credible joins Billshark, Lemonade and Ladder in Radius' consumer digital marketplace. To learn more about the Radius Marketplace, visit https://radiusbank.com/personal/marketplace/.
###
About Radius Bank
With assets of approximately $1.4 billion, Radius Bank is a forward-thinking digital bank committed to providing a full complement of accounts and services to meet the banking needs of consumers and businesses nationwide. Radius provides the product depth of a national brand, the technology of a fintech, and the personalized attention typically reserved for a local bank to consumers, small and middle market businesses, unions, government entities and non-profit organizations. The Bank's award-winning digital banking platform allows consumer clients to bank from anywhere with a computer or mobile device and provides convenient features such as check deposit, bill pay, card management, and a personal financial management dashboard. Business clients enjoy a wide array of award-winning deposit products, advanced treasury management services, and loan and payment solutions. In addition, Radius' suite of open APIs deliver a robust banking-as-a-service (Baas) platform for fintechs to quickly access core banking features and build best-in-class financial solutions. Radius specializes in partnering with forward-thinking fintechs to provide white-label deposit products, cards, digital onboarding, and account management. Radius Bank is a member of the Federal Deposit Insurance Corporation and is an Equal Housing/Equal Opportunity Lender. For further information, visit the Bank's website at radiusbank.com, or follow the Bank on Twitter, LinkedIn, Facebook, and Instagram.
About Credible
Credible is a multi-lender marketplace that empowers consumers to discover financial products that are the best fit for their unique circumstances. Credible's integrations with leading lenders and credit bureaus allow consumers to quickly compare accurate, personalized loan options ― without putting their personal information at risk or affecting their credit score. The Credible marketplace provides an unrivaled customer experience, as reflected by over 2,500 positive Trustpilot reviews and a TrustScore of 4.8/5.