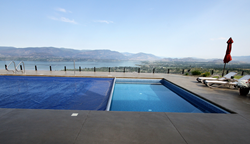 I'd say that it is 50/50 between pools being built at new homes to existing homes. In fact, four of the six pools that we are currently installing are for existing homes
Kelowna, BC (PRWEB) May 30, 2017
With Central Okanagan housing starts continuing to rise this spring and an exceptionally hot summer on its way, a Kelowna construction company says more and more homeowners are also considering home renovations and the kind of Kelowna pools that could increase the resale value of their homes.
Whether or not the pool will increase resale value is not a simple yes or no, says Norm Kneller, a Kelowna contractor and owner of Rafter 4K Contracting, who has been in the construction business for more than 25 years.
According to the Okanagan Mainline Real Estate Board (OMREB), the average price of a residential single family home in the Central Okanagan (as of April, 2017) was more than $600,000 due to the high demand in inventory, and it tends to be from middle-to-high end homes where Kelowna pools are being built, added Kneller.
There is also huge interest this year related to the existing housing market and installing Kelowna pools as part of home renovations. According to OMREB's April 2017 report, the Central Okanagan, demand for properties in the valley is strong, and agents are seeing a "traditional" market for spring. With high list prices and not as much housing inventory, many homeowners are opting to 'upgrade' their home.
"I'd say that it is 50/50 between pools being built at new homes to existing homes. In fact, four of the six pools that we are currently installing are for existing homes," said Kneller.
"Kelowna is a bit different from other marketplaces. We are, in Canada, one of the top 10 cities for pools per capita because of our climate, long summers, and so forth," said Kneller. "People here love their pools. We are on par with some of the biggest suburbs outside of Toronto."
Part of the pool-loving trend is pure climate. On the heels of a long and colder than normal winter, it's expected that in Kelowna, "Summer will be warmer than normal, with the hottest periods in late June, late July, and early August," according to the Old Farmer's Almanac.
Looking at the general lifestyle that exists in the Okanagan Valley, the recreational value of having residential Kelowna pools and the time families will spend in their backyards as opposed to investing money in other recreational pursuits, is a major factor when considering re-sell value.
"The real estate consideration is one thing, but the other part is the family time that a pool provides. We like to say it's like having a vacation in your backyard," said Kneller.
"People don't relate pools to the recreational and the family value that a pool provides, but when you look at what we spend on boats, RVs, and even a big family vacation, we can spend at least $30,000 to $100,000 on something where the depreciation is much higher."
For those who prefer monetary values, there are a number of factors to consider when investing in a pool.
Looking at property values, as well as the home's proximity to public Kelowna pools, beaches and other swimming areas, and if there are other backyard pools in the neighbourhood, and whether the pool fits in with the aesthetic of the home, are all considerations.
"Homes that are valued between $300,00O to $400,000 that spend from $30,000 to $50,000 on a pool are likely not going to make their money back on the re-sell of their home," said Kneller. "However, the return on the investment of having a pool in a home worth from $500,000 up to $1 million can be up to 50 per cent, while a home worth more than $1 million can be much closer to the 70-to-80 per cent range."
As one of a number of Kelowna construction companies, Rafter 4K Contracting has embarked on one of its busiest seasons ever, with much of its work around installing in-ground, vinyl-lined pools.
"The vinyl liner market is still our most popular rather than concrete pools. Vinyl is also more affordable than fibreglass," said Kneller, adding his clients are also interested in making their pools part of an overall outdoor entertainment package.
"We are busy building outdoor decks and patios, and have great people that we work with who help with the landscaping, so we can coordinate a complete package for our clients," he said.
About Rafter 4K Contracting:
With 25 years as a specialist in project management in the Okanagan Valley, Rafter 4K Contracting specializes in pool design and construction as well as home renovations. The company's core team, led by owner/contractor Norm Kneller, has also owned and operated a Kelowna pool company, which makes Rafter 4K one of the few Kelowna construction companies with real expertise in building residential pools.
For more information, please contact:
Norm Kneller
Rafter 4K Contracting
Kelowna, BC
Email: info[at]rafter4k[dot]com
Phone: 1-778-783-1199
Website: http://www.rafter4k.com/