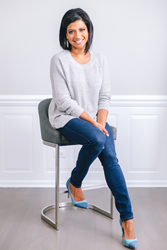 MIAMI (PRWEB) November 01, 2021
Raines International, one of the leading talent consulting and executive search firms in the Americas, announced today that fintech industry advisor Vrinda Johnson has joined as Managing Director based in Chicago, Illinois. Johnson, previously an Executive Director with Russell Reynolds Associates' financial services practice, will lead Raines' FinTech and Business Services practices.
"Having an environment with a people first attitude, a culture of coaching, and a commitment to each other's success that together drive value for our clients and markets - that's what gets me going. And that's what I saw at Raines," Johnson said. "Raines' proven search processes and incredible team, combined with its DEI & Unconscious Bias offerings, are game-changers for clients. FinTech and Business Services sectors are undergoing more transformation now than at any point in history, and I'm honored to help clients build the right cultures and leadership teams."
Johnson has spent more than a decade advising C-suite and board leaders and organizations in the financial services sector as they build and develop their organizations. Prior to Russell Reynolds, Johnson was a director at PricewaterhouseCoopers, where she specialized in FinTech, InsurTech, and Consumer Financial Services and Technology. She also co-founded and served as Chief Operating Officer for social networking app ChekMarc. Johnson earned a Master of Business Administration from the University of Chicago's Booth School of Business and a Bachelor of Science degree in Finance and Accounting from Trinity University.
"Vrinda's colleagues describe her as one of the most remarkable people they've ever worked with," said Dan Smith, Chief Executive Officer of Raines. "She embodies the combination of deep sector expertise, influencing skills, and fun-to-work-with execution style that is a trademark of Raines. There is no one better to bring our platform to the fintech, business services, and adjacent sectors."
About Raines International:
Raines International is an advisory firm committed to making a difference with executive search, organizational consulting, and talent management solutions. Raines is headquartered in Miami with ten offices across the Americas. Raines specializes in senior-level leadership placements across industries and functions.