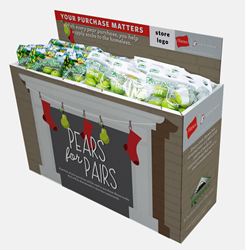 We believe in collaborating to do the most good. Partnering with Hanes on its Sock Drive makes a difference in the communities where we do business, while offering an opportunity for consumers to exercise their values with their wallets.
SELAH, Wash. (PRWEB) November 14, 2018
Thanks to an unexpected idea, grocery shoppers can "pear" their healthy eating and charitable giving goals this holiday season, all from the convenience of the produce aisle. In its inaugural "Pears for Pairs" campaign, Rainier Fruit, one of the largest suppliers of quality conventional and organic fruit in the United States, will contribute a portion of the proceeds of sales of its pears to the ninth annual Hanes Sock Drive, which has distributed more than 2.5 million pairs of socks to those living homeless across the United States.
The Hanes National Sock Drive is part of Hanes for Good, HanesBrands' corporate social responsibility program, which focuses on environmental stewardship, workplace quality and community building.
"At Rainier, our #WholesometotheCore values guide everything we do," said Mark Zirkle, president, Rainier Fruit. "We believe in collaborating to do the most good and partnering with Hanes on its annual Sock Drive feels like a natural extension of our focus on making a difference in the communities where we do business, while offering an opportunity for consumers to exercise their values with their wallets by making a socially conscious purchase."
The Pears for Pairs campaign will run November through December at over 1000 participating retail locations. The "Pears for Pairs" program kicked off with two events on November 10 in Austin, TX. The local events included a sock drive at the Wanderlust 108 yoga event at Travis County Expo Center followed by an onsite donation of more than 1000 socks and pears at Community First! Village and their mobile food trucks with Rainier Fruit and Hanes, to benefit local homeless charity, Mobile Loaves & Fishes.
In addition to in store and in market events, Rainier Fruit will use their social media platforms to raise awareness around the issue of homelessness including an online promotion on "Giving Tuesday" where Rainier Fruit will donate a pair of socks for every social share up to a preset dollar amount.
"The homeless crisis has reached staggering levels with more than 3.5 million people experiencing homelessness each year and more than 550,000 men, women and children being homeless each night," said Andy Tudor, VP of Business Development for Rainier Fruit. "Many homeless individuals walk over 10 miles per day and socks are a simple and often requested comfort that is a basic need that many of us take for granted, this is a very simple way we can help."
"We're thrilled to partner with Rainier Fruit Company to expand the reach and impact of our Hanes National Sock Drive," said Sidney Falken, chief branding officer for HanesBrands. "We want to spark a movement to help those living homeless in America, and this is a great step toward that goal."
At the conclusion of the campaign, Rainier will donate a minimum of $20,000 to the Hanes Charity Sock Drive based on a portion of the proceeds of sales of its Rainier Fruit branded pears.
About Rainier Fruit: Rainier Fruit is a multi-generation, vertically integrated fruit company based in Selah, WA. For more than 100 years, Rainier Fruit has cultivated a culture of stewardship that extends from their orchards to their communities that has made them an industry leader in the production of apples, pears, cherries and blueberries. Connect with Rainier Fruit on social media on Facebook.
About Hanes: Hanes, America's No. 1 apparel brand, is a leading brand of intimate apparel, underwear, sleepwear, socks and casual apparel. Hanes products can be found at leading retailers nationwide and online direct to consumers at http://www.Hanes.com.
About HanesBrands: HanesBrands is a socially responsible leading marketer of everyday basic innerwear and activewear apparel in the Americas, Europe, Australia and Asia-Pacific. The company markets T-shirts, bras, panties, shapewear, underwear, socks, hosiery, and activewear under some of the world's strongest apparel brands, including Hanes, Champion, Maidenform, DIM, Bali, Playtex, Bonds, JMS/Just My Size, Nur Die/Nur Der, L'eggs, Lovable, Wonderbra, Berlei, Alternative, Gear for Sports, and Bras N Things. More information about the company and its award-winning corporate social responsibility initiatives may be found at http://www.Hanes.com/corporate. Visit our newsroom at https://newsroom.hanesbrands.com/. Connect with HanesBrands via social media on Twitter (@HanesBrands) and Facebook (http://www.facebook.com/hanesbrandsinc).
# # #