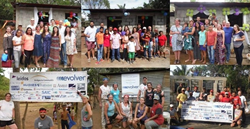 Bridges to Community Board Member Leslie Barry will host the 11th Annual "Raise the Roof" Fundraiser on Tuesday, October 2nd at Top of the Town in Arlington, V.A. Leslie has been involved with Bridges to Community since 2004.
WASHINGTON (PRWEB) September 29, 2018
Bridges to Community Board Member Leslie Barry will host the 11th Annual "Raise the Roof" Fundraiser on Tuesday, October 2nd at Top of the Town in Arlington, V.A. Leslie has been involved with Bridges to Community since 2004. In January 2006, she began organizing a group of Washington D.C. area I.T. colleagues to travel with Bridges on service learning trips to rural Nicaragua or the Dominican Republic. Over 250 I.T. government and industry participants have traveled on Bridges to Community's service learning trips since then. They have built 22 homes, 2 classrooms, and a community center. In 2008, the group decided to do more to support Bridges to Community's community development work and created the annual "Raise the Roof" fundraiser.
At the event, local benefactors, community leaders, and luminaries will join Leslie Barry and Bridges to Community as they enjoy an evening of philanthropy. This very special event will be held at Top of the Town in Arlington, V.A. The "Raise the Roof" event will offer music, food, beverages, a raffle for a Bridges to Community trip, and a special silent auction featuring authentic Nicaraguan and Dominican art pieces, pottery, and baskets. All proceeds, including tickets, will fund Bridges' vital community development programs in Nicaragua and the Dominican Republic. Participants may purchase tickets or make a donation at https://bridgestocommunity.org/raise-the-roof/.
"I am so proud of the way the federal IT community steps up and supports worthwhile causes like Raise the Roof," said Leslie Barry. "I think we have been successful because over the last thirteen years, we have had over 250 folks from government and industry go on a Bridges trip to Nicaragua. Many of those have gone multiple times, and many have also brought their teenagers with them. Because of their support and the support of our sponsors, we have been able to raise many a roof. Going on a Bridges trip changes you and helps put into perspective what is important. Hopefully we'll get a few more new folks to join us for our January trip to the Dominican Republic at this year's 'Raise the Roof'!"
DETAILS
WHAT: Annual "Raise the Roof" Fundraiser to benefit
Bridges to Community
DATE: Tuesday, October 2, 2018
TIME: 5:30pm-8:30pm
PLACE: Top of the Town,
1400 North 14th Street
Arlington, VA
About Bridges to Community
Bridges to Community is an international not-for-profit organization whose two-part mission is to improve the lives of impoverished communities in developing countries through volunteer service trips, and to simultaneously educate and transform those volunteers to be more aware of the connections we all share and the ways we can all impact our lives for the better.
More than 700 volunteers, many from the D.C. metro area, travel with Bridges to Community every year to rural villages in Nicaragua and the Dominican Republic. Service learning is at the heart of the Bridges to Community mission and volunteer experience. We offer guided reflections, hold conversations with representatives from local families and organizations, and organize participatory activities to engage volunteers in the hard work of considering the full complexity of the world in which we live.
Through Bridges' Housing Program, volunteers are supervised by masons and build sturdy, safe homes to improve the quality of life of rural community members. Bridges works to secure land titles for the owners so that families have a place to call their own for generations.
Through the housing projects, beneficiary families contribute to a community fund that is used to provide small business loans to community members, and fund projects after the organization leaves the community, among other things. Community leaders receive training from Bridges to Community to manage payments to the fund, to write business proposals, and more.
Bridges to Community's Health Program strives to remove the obstacles that impoverished families face as they try to achieve a better future. Global and public health students and doctors work alongside Dominican health professionals to identify and build education around regional-specific health problems. Bridges also digs wells and builds water systems to deliver potable water, dramatically improving family living standards, reducing disease and child mortality, freeing girls' and women's time, as well as improving school attendance. Bridges designs and builds hygienic latrines to improve sanitation and install high-efficiency indoor stoves to reduce illnesses. Bridges is currently partnering with Building Goodness Foundation to build a 7,000 square foot regional health clinic in the community of Hormiguero, Siuna to address the health needs of over 18,000 rural Nicaraguans.
Bridges' Education Program works to ensure that there will be educated leaders, doctors, engineers and skilled workers in the next generation, through scholarships, internships, and youth leadership. Through the scholarship program, Bridges ensures that the next generation receives the education they deserve. Bridges also facilitates Youth Leadership Workshops, teaching children computer and leadership skills, and also organizes Vocational Workshops for adults.
For more information, please visit http://www.bridgestocommunity.org.
Thank You to Our Sponsors*
Rey De La Casa Sponsor

Cynergy Professional Systems
Evolver
Scott Roper
Benefactor Sponsors

Grant Thornton LLP
Top of the Town
Patron Sponsors

Ambit
A-Tek, Inc.
Business Integra
Hughes
Leidos
MacroSolutions
SNAP-Inc.
TekStream
Trustwave
Sponsors

Accela
John & Barbara Adams
Apcerto
Richard Ashooh
Bob & Leslie Barry
Chermar
Criterion
Deep Water Point
Dell EMC
DevTech
Govplace
Highland Technology Services
Innovate!
Karsun Solutions
Pragmatics
Salesforce
Serry Systems
Richard Spires
The Stone Crew
Valiant
*as of 9-26-18