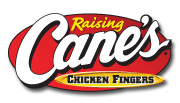 We have been looking forward to bringing our ONE LOVE to Anchorage for years, and it means a lot to me to finally open in Alaska
ANCHORAGE, Alaska (PRWEB) February 13, 2019
Chicken finger lovers in Alaska can rejoice in preparation for the much-anticipated arrival of one of the most popular restaurant concepts in the contiguous 48 states and Hawai'i.
Raising Cane's Chicken Fingers, the Louisiana-based brand with Alaska ties, founded by Todd Graves in 1996 and known for its ONE LOVE® – quality chicken finger meals – will soon make its Alaska debut at Tikahtnu Commons at 1172 North Muldoon Road, Suite J Anchorage, AK 99501.
At Raising Cane's, it all starts with the chicken finger. The 100% premium white meat chicken tenderloins are marinated, hand-battered and cooked to order, ensuring each chicken finger is served hot, fresh and juicy. The craveable, secret Cane's sauce recipe is homemade daily using only premium seasonings and spices. The extra-long crinkle-cut fries are served up hot, fresh and perfectly seasoned with salt. The Texas toast is lightly brushed with garlic and real butter, then grilled. And the coleslaw is made daily with fresh cabbage, carrots and creamy coleslaw dressing. To top it all off, Raising Cane's stays true to its commitment to quality with its beverages, proudly offering fresh-squeezed lemonade and pure cane sugar sweet tea that is prepared in store daily.
The rapidly growing restaurant brand has consistently been ranked in the top restaurants for Overall Customer Satisfaction for 11 years in a row according to the authoritative Sandelman & Associates Quick-Track study, based on food quality, customer service, cleanliness and other important factors.
The new 4,057 square-foot drive-through and dine-in restaurant marks the first of several Raising Cane's openings planned in Alaska through a partnership with Panda Restaurant Group. When it opens this spring, the restaurant will employ more than 100 local crewmembers.
Founded in 1996 in Baton Rouge, Louisiana by a young entrepreneur, Raising Cane's got its start somewhat by way of Alaska. Todd Graves wrote the business plan for Raising Cane's as part of a college business class project which ironically received the worst grade in the class. Graves set out to obtain financing for his restaurant and was repeatedly told "no" by every bank in town. Undaunted, the 24-year old first went to California to work in refineries to raise money. He then traveled to Alaska and hitchhiked to Naknek where he commercially fished sockeye salmon which Graves calls, "some of the hardest work imaginable." Months later, he returned home with the money he earned and, along with an SBA loan and a small group of investors, started Raising Cane's. Two decades later, photos of Todd fishing in Alaska hang in hundreds of Raising Cane's locations around the world. Additionally, when Crewmembers reach their 5th anniversary with the company, they are awarded a mounted sockeye salmon to honor their hard work.
"We are thrilled to partner with Raising Cane's and bring their restaurants to Alaska," said Andrew Cherng, Co-CEO and Co-Founder of Panda Restaurant Group. "With our shared people-first mentality, we believe that Tikahtnu Commons is the perfect location for Raising Cane's to make an impact in serving customers, potential employees, and the whole Anchorage community."
In addition to serving delicious chicken finger meals, Raising Cane's is also known for its active community involvement. The General Manager in Anchorage will soon begin exploring opportunities to support local community organizations of all kinds, including those who fall under Raising Cane's Focus Areas – Active Lifestyles, Education, Entrepreneurship, Feeding the Hungry, and Pet Welfare.
"We have been looking forward to bringing our ONE LOVE to Anchorage for years, and it means a lot to me to finally open in Alaska. My time in Naknek was such a big part of my journey to starting Raising Cane's – this truly is coming full circle for me." said Todd Graves, Founder, CEO, Fry Cook & Cashier at Raising Cane's. "We could not ask for better partners than Andrew and Peggy and their team to help introduce our brand to this beautiful state, and we look forward to getting involved in local communities all across Alaska in the months and years ahead."
Raising Cane's high-quality food, great customer service, and active community involvement have helped to create an incredibly loyal fan base, known as "Caniacs", and was recently recognized as having the Most Loyal Guests in the fast-casual segment as part of Technomic's 2018 Consumers' Choice Awards.
ABOUT RAISING CANE'S®: Founded by Todd Graves in 1996 in Baton Rouge, La., RAISING CANE'S CHICKEN FINGERS has more than 420 restaurants in 24 states, Bahrain, Kuwait, Lebanon, Saudi Arabia and the United Arab Emirates with multiple new restaurants under construction. The company has ONE LOVE®—quality chicken finger meals—and is continually recognized for its unique business model and customer satisfaction. Raising Cane's vision is to have restaurants all over the world and be the brand for quality chicken finger meals, a great crew, cool culture and active community involvement. More information is available at raisingcanes.com.