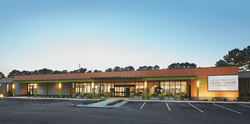 "We are truly amazed by the number of organizations and individuals who have contributed to our cause." Jackie Craig, Co-Founder and Executive Director of The Green Chair Project
RALEIGH, N.C. (PRWEB) October 23, 2019
The Green Chair Project, a nonprofit based in downtown Raleigh, is unveiling its newly expanded and remodeled facility with a grand opening and ribbon-cutting ceremony. The event is on Thursday, October 24th, from 10:00 a.m. – 12:00 p.m. at 1853 Capital Blvd. Raleigh, NC 27604.
This building renovation and expansion will allow the Wake County-based nonprofit to double its reach and impact across the community at a time when the need for their services is rapidly increasing allowing them to serve 1,000+ households annually.
The Green Chair Project had previously leased their building for six years from Blount and Murray Williams, the original owners, prior to being offered an opportunity to purchase the building at a substantial charitable discount.
The Green Chair Project board initiated a renovation project to update deficits in systems and structure. The Make Room campaign was established to generate the capital to make the necessary improvements to the building to gain efficiency that matches The Green Chair Project's business model. A large portion of the construction was done pro bono and through in-kind contributions by companies including BNK, Hager Smith, Riley-Lewis and Sears Contract.
"We are truly amazed by the number of organizations and individuals who have contributed to our cause. As we near the unveiling of our new facility, we want to thank everyone who has made all The Green Chair Project's vision a reality since 2010," said Jackie Craig, Co-Founder and Executive Director of The Green Chair Project.
After the brief ribbon-cutting ceremony, guests will have the opportunity to take guided tours of four distinct areas in the facility. Staff members will offer a behind-the-scenes experience, allowing attendees to see all the work that the staff and their team of volunteers do in order to help those starting new chapters in their lives.
While construction of the facility is complete, the nonprofit has not yet fully reached its financial goal through the Make Room capital campaign, which will help them achieve prolonged sustainability and an expanded reach. The Green Chair Project is currently $180,000 away from meeting the campaign goal of $3 million.
About The Green Chair Project
The Green Chair Project is a 501(c)(3) that provides home furnishings donated from our community for families and individuals who have transitioned from experiencing homelessness or disasters and have secured sustainable housing.
The reusable gifts are cleaned and arranged by volunteers and are presented in a way that promotes dignity and respect. For a small fee, families working with case managers from partnering agencies can select essential furniture, linens, cookware and accessories to outfit their new homes.
The Green Chair experience encourages families to prioritize and make choices and empowers them to create their surroundings and rebuild their lives.