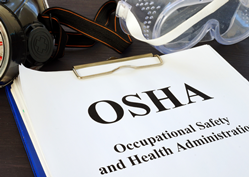 "The OSHA 30 training gives a better understanding of the safety requirements of the federal government and this knowledge will serve our employees as long as they are in construction"
CHARLOTTE, N.C. (PRWEB) July 21, 2020
For almost two decades, RAM Pavement has been The Carolina's #1 Choice for paved asset management. They have been able to maintain this position because they understand that it takes more than superior products and equipment. It's also about having superior and highly trained members on their team. The leaders at RAM Pavement are often looking for new ways to contribute to the growth and expansion of the company while also providing their team members with skills they can use for their personal growth and empowerment. One way of doing this is by providing additional training opportunities to their leaders who can then effectively train and manage their teams. One training program RAM Pavement is proud to be able to offer their employees is the OSHA 30 training.
The OSHA 30 training course is a federally run program for the occupational safety and hazards administration. This program takes four days to complete and is led by a certified OSHA instructor. It teaches invaluable safety practices that help decrease the risk of on-site accidents that can result in damage to property or injuries. They even have the option of choosing flexible OHSA training courses that are tailored to their employee's needs. This training is not part of the regular training for RAM Pavement's superintendents, it's something they wanted to do above and beyond to ensure their employees are safe.
The major benefit of having their employees participate in a program like this is that it trains them on how to be safe. This includes:

How to identify potential safety hazards.
How to reduce hazards by properly arranging the worksite, wearing the proper personal protective equipment, and properly handling equipment.
How to eliminate hazards in the future.
The importance of reporting hazards to managers to create a safer work environment for all.
Additionally, RAM Pavement encourages their superintendents to participate in this type of training because it gives them a better understanding of the safety requirements by the federal government and this knowledge will serve them as long as they are in construction. At RAM Pavement, not only are they training their employees to be great at what they do for the company but they also want to provide their employees with knowledge that can benefit their personal growth and goals.
Their employees aren't the only ones who benefit from the OSHA 30 training. Clients can breathe easy knowing that every job RAM Pavement shows up to do, will be conducted safely and that the job site will be safe for patrons. More and more companies are looking for this type of training.
RAM Pavement strives to be much more than an asphalt and pavement services company. With programs like the OSHA 30 training, they can ensure their employees are safe and their clients are getting the quality and service they deserve.