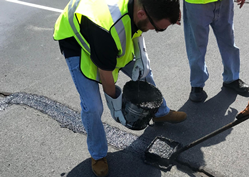 "Mastic One is the right product for the job because it is flexible"
CHARLOTTE, N.C. (PRWEB) August 18, 2020
RAM Pavement is proud to announce the launch of a new product and service they are providing to all of their clients. That product is - Mastic One! Mastic One is a hot-applied, pourable, self-adhesive patching material used for preservation, maintenance, and repair of asphalt, portland cement concrete pavements, and bridge deck surfaces. It is composed of highly modified polymer asphalt binder and durable lightweight construction aggregate. This product is formulated for distresses larger than those typically repaired by crack or joint sealing, but smaller than those requiring removal and replacement patching procedures.
Mastic One has a lot of features that make it unique. For RAM Pavement's clients, the greatest benefit is that it offers a solution to cracks over ¾ of an inch in size. Before Mastic One, you would need to remove and replace those wide crack areas with new asphalt. Now, there is a low-cost solution for those cracks that provide structural integrity to the pavement. Mastic One is flexible, self-leveling, waterproof, and traffic ready in minutes. The benefit of use is a long term repair that reduces the liability to the client and provides peace of mind to any paved asset owner, especially for office parks, shopping center owners, and facility managers. It can also be used on city streets and DOT roadways.
Features:
Flexible
Durable (supports heavy loads)
Waterproof
Bonds to AC & PCC pavement
Long-term solution (5+ years performance)
Engineered design in premeasured package for consistency and maximum performance; no field blending
Easy installation
Reduce crew and equipment, and no compaction compared to hot mix asphalt
Ideally used for:
Filling wide cracks and joints
Filling potholes
Sealing utility cuts
Leveling depressed thermal cracks
Repairing deteriorated longitudinal joints
Skin patch repairs
Leveling manhole covers
Leveling bridge deck approaches
Pretreatment of fatigue cracked areas prior to surface treatments
Filling spalls, popouts, and corner breaks
RAM Pavement is proud to be able to provide its clients with superior asphalt repair products that can meet their specific needs. Mastic One offers flexibility, durability, long term reliability, easy installation, and much more! Their experts can help increase the lifespan of asphalt while reducing costs.