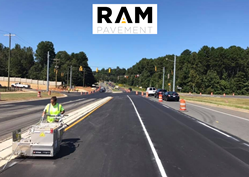 "We're grateful to have the opportunity to serve our community's demand for Thermoplastic Road Marking." - Rob Miller, President of RAM Pavement
CHARLOTTE, N.C. (PRWEB) March 30, 2021
Business owners and property managers are always looking for ways to maintain their paved assets. After all, the pavement around your business makes a critical first impression on visitors and clients. Striping is a vital part of any paving job. It serves to enhance the aesthetics of your property, indicates a well-maintained business, and helps to control vehicle and pedestrian traffic. It also maximizes parking for your tenants, customers, and employees. In many cases, business owners and property managers should have peace of mind that the materials used will last a long time.
Regular traffic paint can last for about a year in low-traffic areas and even less on higher traffic roads. If you are looking for pavement markings that can last for numerous years, thermoplastic pavement marking is the one for you! It's a cost-effective solution known for its longevity and durability. You often see these types of markings on highways, secondary, primary roadways in cities and towns. They typically last up to 5 years on busy highways, 10+ years for parking lots and similar use, and up to 12 years on secondary roads. Apart from the longevity, there are other reasons that these types of markings are the industry's #1 choice.
Thermoplastic Road Markings are also:
Highly reflective - easier to see at night and stays visible during bad weather conditions
Dries Fast! - there's no need to shut down traffic
In Charlotte, North Carolina, there is a high demand for thermoplastic road markings and many paving companies work with subcontractors to finish that part of the job. This can often affect the timeline of project completion because getting the striping part of the job done depends on the availability of the subcontractor to do it.
In the winter of 2019, RAM Pavement launched their own Thermoplastic Road Marking division. With their mission being to offer their clients timely completion of projects, they simply couldn't afford to wait around on an overbooked striping subcontractor. Though this was a whole new vertical market for them, it's still very complementary to what they already do. They've completed thermoplastic marking projects for the city of Charlotte and numerous businesses across North Carolina.
Their technicians are cross-trained in all aspects of paving so not only are clients getting thermoplastic road marking pros, they're also getting an actual paving company that can do it all. This gives RAM Pavement full control of the schedule because it's all in-house. In a recent interview with the President and visionary of RAM Pavement, Rob Miller, he said "We're grateful to have the opportunity to serve our community's demand for Thermoplastic Road Marking."
If you are looking for the best Thermoplastic Road Marking team in Charlotte, give RAM Pavement a call. They laser focus on the last 5% to ensure every scope of the job is done right the first time.