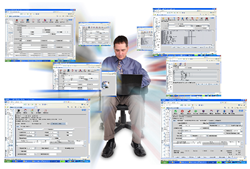 Simplifying and improving the administration of government sponsored healthcare programs (Medicare Advantage, Managed Medicaid, etc.) is RAM Technologies' core purpose, and central to every decision we make as an organization
FORT WASHINGTON, Pa. (PRWEB) October 04, 2018
RAM Technologies, Inc., the perennial leader in the development of enterprise software for healthcare insurance providers, is proud to support the 2018 National Conferences on Medicare, Medicaid and Duals presented by America's Health Insurance Plans (AHIP). RAM is supporting the event as a sponsor and exhibitor and will be showcasing their end-to-end solutions for Medicare Advantage and Managed Medicaid at conferences being held October 14th – 18th in Washington, DC.
"Simplifying and improving the administration of government sponsored healthcare programs (Medicare Advantage, Managed Medicaid, etc.) is RAM Technologies' core purpose, and central to every decision we make as an organization," said Christopher P. Minton, Executive Vice President of RAM Technologies. "AHIP, and all the fine work they do, ensures the long term success of these important programs, and we are proud to support their efforts."
The RAM solution suite, HEALTHsuite Mercato and eHealthsuite™ (web portal), is known for its superior capabilities in streamlining administration and compliance for Medicare Advantage, Managed Medicaid and other government sponsored healthcare programs. These solutions are highly adaptable and feature extensive functionality to improve productivity and reduce total cost of ownership in all phases of the administrative process.
This year's National Conferences on Medicare, Medicaid and Duals will dive into deep discussions about priorities, opportunities, and future directions for our nation's government health care programs.
About RAM Technologies:
RAM Technologies is the leading provider of enterprise claims processing software and claims adjudication software for health plans. For over 37 years RAM Technologies has led the way in the creation of Medicaid software solutions, Medicare software solutions and software for dual eligible processing (the Medicare-Medicaid Financial Alignment Initiative). RAM Technologies has been recognized on Inc. Magazine's List of Fastest Growing Private Companies and the Philadelphia Business Journal's List of Top Software Developers for their advancements in the creation of comprehensive claims management software for Medicare and Medicaid administration. To learn more about RAM Technologies' healthcare claims processing and managed care software solutions call (877) 654-8810 or visit http://www.ramtechinc.com.