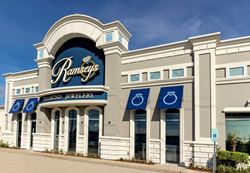 When my father opened his little jewelry store 60 years ago, I doubt he ever dreamed it would grow to become Louisiana's larges diamond showroom
METAIRIE, La. (PRWEB) December 05, 2018
The doors have opened to the largest diamond store in Louisiana – Ramsey's Diamond Jewelers at 701 Veterans Blvd in Metairie – just in time for engagement season and holiday shopping. The brand new 8,400-square-foot beautiful retail space highlights more than 50 showcases of diamond jewelry in excess of 2,000 engagement and wedding rings, a state-of-the-art gem lab, a custom design studio, an observable service center, 44 parking spaces, and knowledgeable jewelry professionals. The official Grand Opening celebration was held on Wednesday, November 28th.
"When my father opened his little jewelry store 60 years ago, I doubt he ever dreamed it would grow to become Louisiana's largest diamond showroom," stated CEO Robert Ramsey, Jr. "But my sister Lori and I like to think that somewhere he is watching and smiling in approval."
The Ramsey family's roots run deep in the Greater New Orleans area and the jewelry industry. Founded in 1958, Robert "Bob" Ramsey Sr. opened B & J Manufacturing Jewelers in New Orleans, manufacturing fine custom jewelry for other jewelers to sell under their own name. Bob decided to enter into the retail business in 1972 with the opening of Ramsey's Jewelers in Metairie. Three years later, his son Robert Jr. joined the company as an apprentice jeweler, assuming control of operations with his sister Lori in 1980. Robert's son Bobby joined Ramsey's in 1999 after apprenticing with jewelry stores across the country.
"Life is about family and celebrations," added Robert Ramsey Jr. "After 60 years in business, it was time to invest in our customers and community with our diamond superstore. We offer shoppers a convenient and relaxing atmosphere during the holiday shopping frenzy and engagement season."
According to WeddingWire.com, 40 percent of couples get engaged between November and February. Ramsey's knowledgeable staff caters to future newlyweds, providing them with personal diamond selection consultation, best price and grading guarantees, and affordable financing.
Whether visitors are looking for a private consultation or "wide open" showcases where merchandise can be tried on unassisted, the Ramsey's shopping experience is like no other store in the state. The public is invited to visit Ramsey's Diamond Jewelers at 701 Veterans Blvd in Metairie between Bonnabel Blvd and the parish line. Grand opening sale items will be featured the entire month of December. Follow Ramsey's on social media for information on prize registrations.
About Ramsey's Diamond Jewelers
Founded in 1958, Ramsey's is now a 3rd generation jeweler celebrating 60 years as one of New Orleans' best known businesses.
Many local New Orleanians grew up listening to Robert and Lori's colorful radio commercials and instantly recognize the "Rrrrrrrrrramsey's Diamond Jewelers" tagline when they hear it. "My friend Roy claims he's just been doing a bad imitation of Tony the Tiger for the past 25 years," says Robert Ramsey Jr., "but everyone from New Orleans who meets him asks him to do it for them, and he never lets them down."
Ramsey's has a second location on the Westbank at 1901 Manhattan Blvd in Harvey that will soon be merged into the BIG store at 701 Veterans. For more information contact Robert Ramsey at 504-885-4653 or visit ramseys.com on the web. Follow us on Facebook.