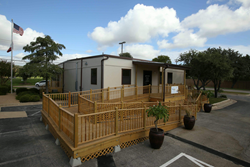 Pedernales Electric needed a facility that would meet their interim needs, but they didn't want to compromise on quality. Ramtech was able to deliver a modular building that was both highly functional and attractive in its curb appeal
Mansfield, TX (PRWEB) September 17, 2014
Ramtech Building Systems, Mansfield, Texas has announced that Pedernales Electric Cooperative (PEC) has opened a new modular office building built by Ramtech at the company's existing Marble Falls, TX site. The new 2,255 square foot payment processing office will serve the company on an interim basis while Pedernales Electric evaluates plans to develop a new site in the future to meet their expected growth and customer service needs. The Type V wood frame structure features a canopy-covered vehicle drive-through with a bullet resistant teller window, along with an entrance to the facility that incorporates an ornate set of wood steps and ramps designed to meet all accessibility standards. Heating and cooling of the building is accommodated with a five-ton split system zoned to accommodate the walk-up payment lobby, a large office room, two open office areas, and a break room. The interior office areas are finished out with VCG walls and a combination of VCT and carpet floor coverings, while the exterior utilizes a factory applied HardiePanel fiber cement vertical siding. According to Gary White, Ramtech's VP of sales, "Pedernales Electric needed a facility that would meet their interim needs, but they didn't want to compromise on quality. Ramtech was able to deliver a modular building that was both highly functional and attractive in its curb appeal."
The Pedernales Electric Cooperative is a not-for-profit rural electric distribution utility cooperative headquartered in Johnson City, Texas. Originally organized in 1938, PEC now delivers electricity to more than 255,000 customers throughout an 8,100 square mile service area covering 24 counties in the Texas Hill Country. PEC is also part of the Touchstone Energy Cooperatives brand, an alliance of 749 local, consumer-owned electric cooperatives that distributes power through two million miles of line to serve 32 million member-owners in 46 states.
About Ramtech Building Systems
Since 1982 Ramtech Building Systems has been providing innovative modular construction projects for government agencies, healthcare providers, Fortune 500 companies, and educational institutions throughout the Southern United States. As a design-build construction company, Ramtech offers full in-house design, a manufacturer direct product, and complete site construction services all within a single-source solution. The Pedernales Electric Cooperative project was designed and manufactured at Ramtech's Mansfield, TX headquarters, part of a 20-acre development located in the southern part of the Dallas-Fort Worth Metroplex. Structured as a vertically integrated design-build construction company, Ramtech provides space planning, design services, manufacturing, site construction and finish-out on every project they produce. By emphasizing a value engineering approach, Ramtech has successfully completed over 3,000 diverse projects of all sizes. For more information, visit the company's website at ramtechemodular.com.