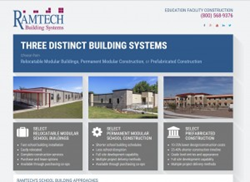 Mansfield, TX (PRWEB) May 12, 2015
Ramtech Building Systems of Mansfield, Texas has announced that the company has launched RamtechEducation.com, a redesigned website showcasing Ramtech's wide range of modular building options that are now available to public and private schools located throughout the Southwest. The new website provides several design changes which showcase the specific benefits available through Ramtech's three distinct building systems. These include relocatable modular buildings, permanent modular construction, and prefabricated construction (featuring the company's Accelerated Building System slab-on-grade building method) all of which can be used for new construction or facility additions and expansions.
Each section provides details on how Ramtech constructs the three building types, the benefits (including sustainability) they provide, and the specific kinds of facilities that are available with each building system. Also provided is an updated photo gallery of past projects, and easier navigation to the wide range of standard and custom floor plans that Ramtech has available using each construction method. The new website also includes additional project videos, and better integration with the company's social media sites. Ramtech plans to incorporate the same redesign approach to the company's other websites which are scheduled to be updated prior to the end of this summer.
About Ramtech Building Systems
Since 1982 Mansfield, Texas-based Ramtech Building Systems has been providing innovative modular buildings for government agencies, healthcare providers, Fortune 500 companies, and educational institutions throughout the Southern United States. As a design-build construction company, Ramtech offers full in-house design, a manufacturer direct product, and complete site construction services all within a single-source solution. By emphasizing a value engineering approach, Ramtech has successfully completed over 3,500 prefabricated buildings for diverse projects of all sizes.
For more information, visit the company's website at ramtecheducation.com.