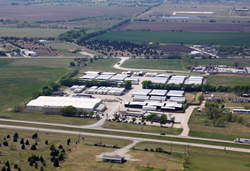 Each of these management changes will further Ramtech's mission of providing exceptional value and outstanding product quality through our innovative design capabilities and our commitment to complete customer satisfaction
MANSFIELD, Texas (PRWEB) January 21, 2020
Design-build modular construction firm Ramtech Building Systems of Mansfield, Texas has announced several senior level promotions that will leverage their current corporate structure to facilitate the company's aggressive growth goals for relocatable modular buildings and permanent modular construction over the next decade. Key management changes include the promotion of Matthew Slataper to President of Ramtech, Randy Van Zandt assuming Vice President of Operations, and registered architect Gary Davenport elevated to Vice President of Architecture.
Mr. Slataper takes over from Linc Moss who has elected to step back from his previous role as Ramtech president and will assume an advisory role as Chief Operating Officer as he transitions into retirement at the end of 2020. Mr. Slataper came to Ramtech in 2018 from the financial services industry where he worked in investment banking for several years. As President of Ramtech he will oversee marketing, business strategy and development, project estimating, and all the company's banking and financial relationships.
A 20-year veteran of Ramtech who has served in several key senior project management positions, Randy Van Zandt has moved to Vice President of Operations. In this capacity he will continue to lead the company's day-to-day site construction efforts while adding the management role over engineering and the oversight of Ramtech's modular manufacturing operations to his responsibilities.
Registered architect Gary Davenport will assume the role of VP of Architecture. Mr. Davenport will work together with Roland Brown, Ramtech's Vice President of Engineering, in leading the company's internal design department, while also focusing in a business development role through the company's sales and marketing efforts. One of the commercial modular industry's most respected and talented architects, Mr. Davenport has been with Ramtech since 2015 and will report to company President Matthew Slataper in his new role.
"I'm very excited about the future" said Moss. "Each of these management changes will further Ramtech's mission of providing exceptional value and outstanding product quality through our innovative design capabilities and our commitment to complete customer satisfaction."
About Ramtech Building Systems
Since 1982 Ramtech Building Systems has been providing innovative relocatable modular buildings and two types of permanent modular construction for commercial companies, educational institutions, government agencies, and healthcare providers throughout the Southern United States. As a vertically integrated design-build construction company, Ramtech provides full in-house design, a manufacturer direct product, and complete site construction services all within a single-source solution. Ramtech can offer facilities built using permanent modular construction on both a pier and beam or concrete slab foundation. Both options combine the best of off-site manufacturing and on-site construction techniques to produce a building faster and with less cost, but identical in the look, functionality, and life expectancy of a completely site-built structure. By emphasizing a value engineering approach, Ramtech has successfully completed over 4,000 diverse projects of all sizes. For more information, visit the company's website at RamtechModular.com.