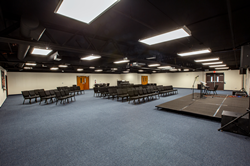 MANSFIELD, Texas (PRWEB) November 04, 2019
Design-build commercial modular construction firm Ramtech Building Systems of Mansfield, TX has announced that the company has completed two permanent modular buildings for First Baptist Church at the Fields of Carrollton, Texas. The 26,624 square foot project utilized Ramtech's pier and beam permanent modular construction process to provide two education buildings as part of the church's relocation from its previous location. The first building, a 10,624 square foot facility for adults, incorporates a central corridor with seven classrooms and men's and women's restroom facilities on either side. The second building provides 16,000 square feet of space with two large worship areas, six classrooms, and boys and girls restrooms for the church's middle and high school ministry programs. Ramtech used a grade beam foundation system with drilled and belled piers for both structures which were designed to incorporate parapet walls with full masonry exteriors and TPO roofs. The heating and cooling of each building is accommodated using zoned split-system HVAC units. The interior finishes include vinyl covered gypsum for the walls and a combination of carpet tile, vinyl composition tile, and sheet vinyl for the flooring. Ramtech also was responsible for installing a fire sprinkler system in both buildings.
Founded in 1909, First Baptist Church at the Fields transitioned from its original Carrollton, Texas location to its new campus in stages. First came the opening of a sports and recreation complex in 2011, followed by a second facility for worship and bible study which opened in 2016. The new free-standing modular buildings that Ramtech installed sit adjacent to each other and are part of a master development that includes the multipurpose worship facility with office space for the ministry staff, and extensive site development of the multi-acre location. Ramtech's scope of work allowed the company to complete the manufacturing of the modular sections at the end of 2018 in advance of the site development that was performed by the church's general contractor that started during the first quarter of 2019. Once that work was completed the buildings were set in place during the beginning of the summer and finished-out prior to the official opening of the Church in September.
About Ramtech Building Systems
Since 1982 Ramtech Building Systems has been providing innovative relocatable and permanent modular buildings for commercial companies, educational institutions, government agencies, and healthcare providers throughout the Southern United States. As a vertically integrated design-build construction company, Ramtech provides full in-house design, a manufacturer direct product, and complete site construction services all within a single-source solution. Ramtech can offer facilities built using permanent modular construction on either a pier and beam or concrete slab foundation. Both options combine the best of offsite manufacturing and onsite construction techniques to produce a building faster and with less cost - but identical in the look, functionality, and life expectancy of a completely site-built structure. By emphasizing a value engineering approach, Ramtech has successfully completed over 4,500 diverse projects of all sizes. For more information, visit the company's website at RamtechModular.com.