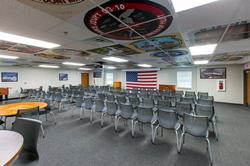 MANSFIELD, Texas (PRWEB) July 19, 2019
Design-build commercial modular construction firm Ramtech Building Systems of Mansfield, Texas has announced that the company has completed a 17,284 square foot Temporary Flying Squadron Facility for the 33d Flying Training Squadron at Vance Air Force Base in Enid, Oklahoma. Procured using a five-year operating lease, the single-story modular building complex will be used for pilot training as part of a program aimed at increasing the graduation rate to address the shortage of pilots that currently exists within the U.S. Air Force. Ramtech worked with the 71st Mission Support Group and ASRCC, Vance AFB's Base Operations Support contractor to develop the project. The L-shaped relocatable modular building provides space for eight training classrooms, 15 offices, four operations rooms, a squadron briefing room, conference room, and a reception area. The facility's exterior was designed with R-Panel metal siding and a TPO membrane roof. The interior utilizes vinyl covered gypsum on the walls and a combination of carpet tiles, vinyl composition tile, and sheet vinyl for the flooring. The heating and cooling of the facility is accommodated by 14 Bard Exterior Wall Mount ducted air-conditioners. As part of the design-build contract, Ramtech was responsible for providing all of the office and classroom furniture throughout the building along with the site development including the building pad, the extension and connection of all utilities, and the fire sprinkler and alarm systems.
Located 90 miles northwest of Oklahoma City, Vance Air Force Base is the northernmost Specialized Undergraduate Pilot Training base in the Air Education and Training Command. The base has 1,200 active duty and reserve military along with 1,300 civilian employees that support approximately 500 student pilots in their training pipeline. In order to meet the current shortage of pilots in the Air Force, Vance has been tasked with increasing its pilot output by about 30 percent by 2021.
About Ramtech Building Systems
Since 1982 Ramtech Building Systems has been providing innovative relocatable modular buildings and permanent modular construction for commercial companies, educational institutions, government agencies, and healthcare providers throughout the Southern United States. As a vertically integrated design-build construction company, Ramtech provides full in-house design, a manufacturer direct product, and complete site construction services all within a single-source solution. Ramtech can offer facilities built using permanent modular construction on both a pier and beam or concrete slab foundation. Both options combine the best of off-site manufacturing and on-site construction techniques to produce a building faster and with less cost, but identical in the look, functionality, and life expectancy of a completely site-built structure. By emphasizing a value engineering approach, Ramtech has successfully completed over 4,000 diverse projects of all sizes. For more information, visit the company's website at RamtechModular.com.