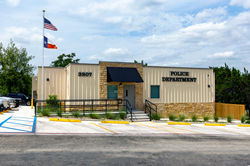 MANSFIELD, Texas (PRWEB) July 07, 2020
Design-build commercial modular construction firm Ramtech Building Systems of Mansfield, Texas has announced that the company has completed the installation of a permanent modular building for the City of Cottonwood Shores, TX. The 2,184 square foot facility provides a new headquarters facility with additional space and room for growth for the city's current five-officer police department. The building replaced an aging 720 square foot facility that was deemed to be too structurally unsound to be repaired or added on to.
The new modular building provides two private offices for the chief of police and the second in command of the police department. Also included is a large open office area for the patrol officers, one intake and two interrogation rooms, a large evidence storage room, and a break room area.
The modular building was constructed using Ramtech's pier and beam permanent modular construction approach with the modular sections installed on a stem wall foundation system. A combination of 26 gauge R-panel siding and stone veneer were installed on the exterior parapet wall which included a concealed roof line with additional height at the main entry to enhance the architectural appearance. The interior was finished with cost-effective vinyl covered gypsum on the walls and vinyl composition tile flooring throughout the facility.
The city of Cottonwood Shores is located 50 miles west of the state capitol in Austin, Texas. Occupying two square miles on the south bank of the Colorado River in southwestern Burnet County, the community has seen consistent growth and now has approximately 1,200 residents. Ramtech was able to complete the installation and finish-out of the permanent modular building in just over five weeks.
About Ramtech and Modular Construction
Since 1982 Ramtech Building Systems has been providing innovative relocatable modular buildings and two types of permanent modular construction for commercial companies, educational institutions, government agencies, and healthcare providers throughout the Southern United States. As a vertically integrated design-build construction company, Ramtech provides full in-house design, a manufacturer direct product, and complete site construction services all within a single-source solution. Ramtech can offer facilities built using permanent modular construction on both a pier and beam or concrete slab foundation. Both options combine the best of off-site manufacturing and on-site construction techniques to produce a building faster and with less cost, but identical in the look, functionality, and life expectancy of a completely site-built structure. By emphasizing a value engineering approach, Ramtech has successfully completed over 4,000 diverse projects of all sizes. For more information, visit the company's website at RamtechModular.com.