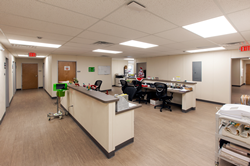 MANSFIELD, Texas (PRWEB) January 27, 2021
Design-build construction firm Ramtech Building Systems of Mansfield, Texas has announced that the company has completed a 6,498 square foot modular health clinic in Elgin, Texas for Community Health Centers of South Central Texas. Known as the Family Health Center at Elgin, the free-standing facility replaced a small school-based clinic that the company had operated using two classrooms inside the local Elgin Independent School District's Intermediate school. The new building, located on Elgin ISD property near the District's elementary school, provides 13 exam rooms for the clinic's three providers, dental exam rooms, procedure room, multiple private offices, an x-ray room, lab and pharmacy areas, vaccination room, centralized nurses station, large reception and eligibility screening areas.
The Type VB structure utilized Ramtech's pier and beam permanent modular construction process to accelerate the completion of the building. Ramtech's scope of work included the manufacturing, installation, and finish-out of the modular sections which were set on a concrete pier foundation. The parapet wall exterior of the building utilizes a combination HardiePanel vertical siding with a metal fascia band, while the interior is finished with vinyl covered gypsum walls along with luxury vinyl tile flooring throughout the facility.
Founded in 1966, Community Health Centers of South Central Texas operates nine facilities that serve patients in and around the greater Austin area providing family medicine, pediatrics, dental and behavioral health services. The new building will allow the clinic to triple its current patient load and expands their services to accommodate clients from a three-county area east of Austin.
About Ramtech Building Systems
Since 1982 Mansfield, Texas-based Ramtech Building Systems has been providing innovative permanent modular construction and relocatable modular buildings to educational institutions, government agencies, healthcare providers, and Fortune 500 companies throughout the Southern United States. As a design-build construction company, Ramtech offers full in-house design, a manufacturer direct product, and complete site construction services all within a single-source provider solution. By emphasizing a value engineering approach, Ramtech has successfully completed over 4,000 total projects of diverse sizes across multiple industries. Their medical project portfolio includes both relocatable buildings and facilities built using traditional pier and beam permanent modular construction and the companies flagship slab-on-grade permanent modular construction method. For more information, visit the company's website at RamtechModular.com.