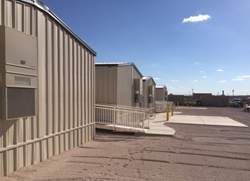 MANSFIELD, Texas (PRWEB) September 20, 2018
Design-build commercial modular building firm Ramtech Building Systems of Mansfield, Texas has announced that the company has recently completed eleven multi-use relocatable modular building projects at three locations in the Permian Basin. Ramtech manufactured and installed five of its standard portable classroom buildings to be used as offices at two separate locations for XTO Energy - four at the company's regional operations center in Carlsbad, New Mexico, and one at a satellite facility in Coyanosa, Texas. The project was managed by Grand Junction, Colorado-based general contractor FCI Constructors. Ramtech provided all of the steps, ramps, and landings for each of the buildings which will be used by XTO Energy for additional office space.
The other six buildings were manufactured and installed for the Loving, New Mexico office and transportation center of Schlumberger. Ramtech worked with two Alabama-based construction firms, Harrison Construction and the John Plott Company, who were responsible for the site preparation. Ramtech placed three 840 square foot offices, one at the entrance to the facility and two in front of Schlumberger's existing office. Three other buildings were grouped together including a 4,704 square foot office complex along with a 1,024 square foot men's and women's restroom with showers and a 1,536 square foot break room with lockers.
All of the modular buildings Ramtech produced were manufactured with R-Panel siding with high rib steel roofing on the exteriors. The interiors were finished out with lay-in ceilings with vinyl covered gypsum walls and a combination of vinyl composition tile and carpet tiles on the floors. Heating and cooling of the buildings are accommodated using Bard Exterior Wall-Mount units. Ramtech was able to complete all of the projects in under 60 days.
About Ramtech and Modular Construction
Since 1982 Ramtech Building Systems has been providing innovative relocatable and permanent modular buildings for commercial companies, educational institutions, government agencies, and healthcare providers throughout the Southern United States. As a vertically integrated design-build construction company, Ramtech provides full in-house design, a manufacturer direct product, and complete site construction services all within a single-source solution. Ramtech can offer facilities built using permanent modular construction on both a pier and beam or concrete slab foundation. Both options combine the best of off-site manufacturing and on-site construction techniques in order to produce a building faster and with less cost, but identical in the look, functionality, and life expectancy of a completely site-built structure. By emphasizing a value engineering approach, Ramtech has successfully completed over 4,000 diverse projects of all sizes. For more information, visit the company's website at RamtechModular.com.