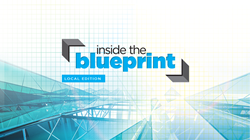 MANSFIELD, Texas (PRWEB) December 05, 2020
Design-build commercial modular construction firm Ramtech Building Systems of Mansfield, Texas has made public a link to the video segment about the company which ran on the syndicated television program Inside The Blueprint Local Edition. The program ran twice during November 2020 on local station KDFI Channel 27 in the Dallas-Fort Worth Metroplex area. Produced by Florida-based BrandStar Entertainment, the half-hour program featured Ramtech along with five other Metroplex-area firms that are innovators in providing construction services, engineering waterworks, insulation materials, and HVAC products.
The four-minute Ramtech profile focused on the company's approach to the design, manufacturing, and construction of relocatable and permanent modular buildings, as well as a detailed look at their industry-leading slab-on-grade permanent modular construction process. The segment featured interviews with Ramtech President Matt Slataper and Vice President of Engineering Roland Brown, both of whom provided insights on Ramtech's development and technical capabilities, and the value-engineered approach the company uses in developing relocatable and permanent modular building projects.
Inside The Blueprint (ITB) is a fast-paced series that focuses on innovations in the commercial construction and design industries. The program identifies new products and ideas and shows how they will affect how we will live, work, and play in the future. The ITB episodes began in 2015 and are now into their sixth season. For each season, ITB develops a 12-part series that's based around a theme which examines the four steps that make up a leading-edge product or service. These four steps include evaluating the inspiration, ideas, processes, and their impact. The current season is focused on "Leading Edge Innovations that are Advancing Modular Building Systems. Prior to the broadcast dates, BrandStar Entertainment conducted a public relations campaign for the segment, along with various social media initiatives as part of a comprehensive preshow marketing plan. Ramtech has received the licensing rights to the segment which can be viewed on our YouTube Channel here.
About Ramtech and Modular Construction
Since 1982 Ramtech Building Systems has been providing innovative relocatable modular buildings and two types of permanent modular construction for commercial companies, educational institutions, government agencies, and healthcare providers throughout the Southern United States. As a vertically integrated design-build construction company, Ramtech provides full in-house design, a manufacturer direct product, and complete site construction services all within a single-source solution. Ramtech can offer facilities built using permanent modular construction on both a pier and beam or concrete slab foundation. Both options combine the best of off-site manufacturing and on-site construction techniques to produce a building faster and with less cost, but identical in the look, functionality, and life expectancy of a completely site-built structure. By emphasizing a value engineering approach, Ramtech has successfully completed over 4,000 diverse projects of all sizes. For more information, visit the company's website at RamtechModular.com.