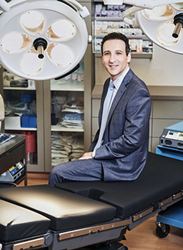 NEWBURGH, N.Y. (PRWEB) September 04, 2020
Dr. Ran Y. Rubinstein has been chosen as a clinical trainer by Galderma for a new lip injection filler, Restylane Kysse. This is an injectable that is used to give patients fuller and smoother lips. Dr. Rubinstein believes that his experience in the industry will give him the opportunity to pass onto others the skill and artistry that is necessary to ensure the patient's lips look natural and beautiful after having injections.
The Restylane Kysse filler provides results that can last longer than other brands. In some patients, the product lasts for up to one year. It also takes less product to get the desired results, as compared to many other brands such as Juvederm.
Restylane Kysse uses XpresHAn Technology, which provides an elastic look and feels incredibly natural. Other lip injection fillers may be difficult for the patient to get used to due to the type of product being used, but with the XpresHAn technology that Kysse uses, patients will have a filler that not only looks and feels natural but can be given immediate comfort with. The product, once injected, molds and stretches according to the expressions you make, giving the natural-looking results patients love.
Due to the effectiveness of Kysse, and the type of product it is, it also boasts cost benefits that other fillers just can't. With Kysse, less product is needed and doesn't need the constant touch-ups that regular lip fillers do, with results lasting a year or more. Ideal candidates can be anyone over the age of 21 looking for a solution to volume loss in their lips.
With the popularity of lip injections rising in recent years, many people believe that any doctor can do the treatments as good as the next one, and Dr. Rubinstein does not believe this is true. He has found that if doctors don't get the proper training, the results can look fake or be suboptimal. There is also an increased chance of patients having to deal with complications.
To get the best results from this new product, Dr. Rubinstein wants to ensure that physicians know how to inject it properly. That is why he accepted the position of clinical trainer for this new filler. He believes that not only will it help patients feel more confident and enhance their looks, but it can also differentiate doctors from other practices. This is something that is in the best interest of patients and physicians alike.
Dr. Rubinstein has been a lip injection provider for many years and has seen the technique and product advancements throughout that time. He is a top facial plastic surgeon in New York, with a double certification from the American Board of Facial Plastic Surgery and the American Board of Otolaryngology-Head and Neck Surgery.
To learn more about Dr. Rubinstein's new role as a clinical trainer for the lip filler Restylane Kysse or to get information about the other procedures he does, including hair restoration, facelifts, reconstruction, or others, contact him today.
If you would like more information, please call Dr. Rubinstein's office at (845) 863-1772 or fill out our online contact form.