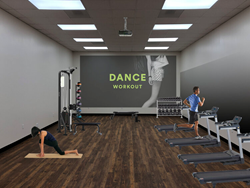 The opening of the Ranch Studio will allow us to bring the benefits of the shared model to a completely new type of business
HOUSTON (PRWEB) January 21, 2020
The Ranch Office is known as a great choice for coworking office space. Freelancers, entrepreneurs, remote employees, and anyone else in need of affordable office space turn to the Ranch Office in West Houston. Now, they're offering something different. Coming soon on the property is a shared studio for fitness professionals - Ranch Studio. Personal trainers and yoga instructors who can't afford their own space can now pay only for the time they need, allowing them to train clients or teach classes without breaking the bank.
The Ranch Studio will be located at the 1220 Blalock Road Ranch Office headquarters. The main feature is the multi-use studio room, equipped with state of the art fitness equipment. Features of the studio include a projector and audio system, both of which can be controlled by trainers or instructors who rent the space. The entrance leads to a reception area, in addition to a private room available for smaller classes or consulting sessions. The two bathrooms include showers, so trainers and clients can clean up after their exercise.
Leasing a building isn't cheap. You may need studio space, but it can be hard to commit to the steep price. With Ranch Studio, members don't have to worry about the affordability of leasing a studio. Instead, Ranch Studio offers the ability to pay only for the hours needed. As part of the membership, a member could reserve a time block for their business's dance class, physical therapy consultation, or personal training session. By only having to pay for what is needed, Ranch Studio makes fitness and studio space as accessible to everyone as the original coworking space made office space.
The company is betting on the Ranch Studio as another option in the shared space rental game. "The opening of the Ranch Studio will allow us to bring the benefits of the shared model to a completely new type of business," says founder Michael Haapaniemi. "This project allows us to empower local entrepreneurs in the fitness and health related industries by dramatically lowering their cost of doing business, while also providing them and their clients with an energetic atmosphere that borrows from our neighboring Ranch Office coworking space." Lowering the cost barrier to entry for these small businesses isn't the only benefit. Haapaniemi continues, "In addition, Ranch Studio members will receive perks from the Ranch Office, such as an included mailing address and access to our flexible workspace, should you need to answer emails after your training session." The space will also be available to members currently officing out of the Ranch Office coworking space.
Early bird discounts are available now for those who sign up before opening. To learn more, visit the Ranch Studio's website.