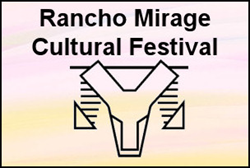 This is one of the most lively and extravagant cultural events of our season.
Rancho Mirage, CA (PRWEB) April 08, 2014
Brad Schmett, Broker Associate with Luxury Homes by Keller Williams today announced that the upcoming four-day cultural extravaganza in Rancho Mirage will be a huge boost for the local real estate community as record attendance is expected. An all-star lineup will guarantee that all events will be well attended and well supported.
With names like Sheri Belafonte, Germaine Franco, Stephanie Kramer and Ruta Lee on the panel will serve as the scheduled for Thursday, April 10, the Palm Springs Women in Film and Television launching event. The 2014 Rancho Mirage Cultural Festival promises to be the biggest and best yet. On Friday, April 11 from 7PM – 8:30 PM, Los Palermos Mariachis and Ballet Folklorico will light up the Amphitheater at the River with music and dance celebrating the rich and historic culture of Mexico.
Schmett commented that, "This is one of the most lively and extravagant cultural events of our season. Everyone is talking about the all-star lineup as well as the menu of events celebrating all cultural genres. With all festival events free, attendance is expected to be off the charts this year. Superb planning by the Rancho Mirage Cultural Commission always insures a stellar four days of fun. It's no surprise that the real estate community will benefit handsomely, as once attendees see what this Valley has to offer they can't wait to buy homes here. We look forward to accommodating everyone."
Events will be held at various locations throughout Rancho Mirage with plenty of parking and accommodations for the handicapped. This is also a festival that is family-friendly and welcomes attendees of all ages and cultural tastes.
For more information on the Rancho Mirage Cultural Festival visit http://whereisranchomirage.com/cultural-festival-in-rancho-mirage/.
Find out more about investing in Rancho Mirage, CA real estate.
About Luxury Homes by Keller Williams: Luxury Homes by Keller Williams – La Quinta, is an exclusive, elite and sophisticated group of real estate consultants raising the bar for service in the La Quinta and Rancho Mirage area residential real estate market.