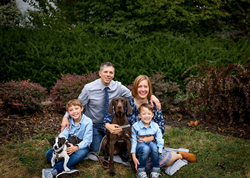 ARLINGTON HEIGHTS, Ill. (PRWEB) November 18, 2020
Local pet parents and pet business owners Randa and Matt Clark are pleased to announce the launch of their new pet food and supplies company – Pet Wants Arlington Heights.
The Clarks, who also own Tailchasers Pet Care and Barrington Pet Resort, said they are excited to offer a fresher pet food option to the community through Pet Wants.
"We were drawn to Pet Wants because of the freshness. Nutrition plays a large role in the behavior and health of the animals in our care. We work hard to maintain the freshness of the food we provide for the pets in our pet resort, but we have noticed some of the pets begin to refuse their meals after the food has been in the sealed bin for more than a few days. We have been looking for a fresher option to avoid the toxins and loss of nutritional value of traditional pet food distribution. Pet Wants gave us the answer to this problem and gives us an opportunity to recommend a pet food we are passionate about," Randa said.
Pet Wants' specially-crafted, private-label pet food formulas are made in small batches with fresh, natural ingredients enhanced with vitamins and minerals for a complete and balanced diet in every bowl, all made in the USA. Pet Wants Arlington Heights has multiple blends of dog and cat food formulas as well as healing salve, calming balm, anti-itch spray, paw wax and more.
Pet Wants Arlington Heights serves the northwest suburbs of Chicago including Arlington Heights, Rolling Meadows, Palatine, and Schaumburg.
Pet Wants has a money-back guarantee on the freshness and quality of the food and the company only sources the best salmon, chicken, lamb, brown rice and other ingredients available. There's no sugar added, no fillers and no animal by-products and Pet Wants never uses corn, wheat, soy or dyes, which makes the food great for animals with allergies.
Randa and Matt are looking forward to continuing to be a part of their community and providing trusted services to pet parents throughout the region.
"It is a difficult task these days to be able trust people and companies with your pet's health and well-being. We understand. We love animals and we do what we do for a living for a reason. We started all three of our companies with the goal of becoming not only a trusted, accountable service that you can call upon, but also in hopes to become a part of your family. We look forward to serving you through Pet Wants," Matt said.
To learn more about Pet Wants Arlington Heights, call 847-381-0964, email RClark@PetWants.com or visit http://www.PetWants.com/ArlingtonHeights.