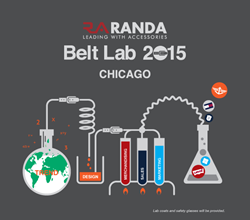 The Randa Belt Lab will assist our partners in delivering fashion-right product, higher turn rates, industry-leading sell through, and compelling product at point-of-sale and online
New York, NY (PRWEB) June 18, 2015
Randa, the world's largest men's accessories and belt company, cut the ribbon on its Belt Lab, a unique initiative headquartered at its Chicago showrooms. Randa, who produces belts for eight of the top ten brands in the world, including Levi's, Dockers, Tommy Hilfiger, Columbia Sportswear, Dickies, and Kenneth Cole, will utilize the Belt Lab as both a catalyst for interactive discussion and a showroom for best practices. The Belt Lab is available to retailers, industry leaders, brand owners, and suppliers by invitation only. The Lab's appointment schedule is fully booked through August.
Randa's New Orleans distribution center receives, processes and ships over 30 million belts alone, each year. The company owns the largest belt factory in the Western Hemisphere, Guatemala-based Tata Belt Manufacturing. In addition, Randa has facilities in Toronto, Mexico City, London, Como, Johannesburg, Melbourne, and Shanghai.
"Our company has created the Belt Lab to use our expertise and leadership as leverage to take advantage of the growing men's accessories business," said Terry Tackett, president of belts and furnishings. "More importantly, and out of necessity, the Belt Lab will grow more than our share of the market; it will grow the entire market."
The Belt Lab Mission
The Belt Lab's mission is twofold. First, the lab will create compelling new product, uniquely suited to each and every consumer market. Second, the Lab will analyze each retailer and brand partner's current position in the men's belt business and then provide recommended strategies, test models, best practices, detailed metrics, and optimization tactics. From guiding assortments to enhanced retail presentation, price zones and customer engagement, omnichannel and logistics expertise, the lab combines an in-depth knowledge of retail offerings with category-leading success patterns and continually updated trend analysis to yield the best possible outcome for all stakeholders.
"The Randa Belt Lab will assist our partners in delivering fashion-right product, higher turn rates, industry-leading sell through, and compelling product at point-of-sale and online," continues Tackett. "The result will be extraordinary customer experience and increased purchase frequency."
Today's Men's Belt Business
Randa was founded in 1910 as an American neckwear company. The company entered the belt and wallet business in 2001 with the acquisition of Humphreys Leather Goods, followed by further acquisitions of Trafalgar Luxury Leather Goods in 2003, and Swank, Inc. along with Tata Belt Manufacturing in 2012.
"The Randa Belt Lab is an incubator for identifying, stimulating and satisfying customer demand. We want consumers to be able to buy a men's belt that is fashionable and functional, 24 hours per day 7 days per week, wherever, whenever, and however they choose to shop. We are committed to making that process effortless, seamless and seductive," says David J. Katz, executive vice president and global chief marketing officer for Randa.
Randa's Belt Lab will also explore new opportunities in cross-merchandising with apparel and other accessories, thereby displaying more wearing occasions and providing additional sales options.
"Men need more belts – they just don't know it, yet," Katz notes. He goes on to state the average male customer in North America buys a belt once every two years and has 2.7 belts in his closet. Through compelling product, elevated presentation, powerful marketing, and ease of shopping, Randa's goal is to increase the frequency of purchase to once every 18 months and broaden the wardrobe assortment to 3.7 belts. "If successful," Katz says, "our efforts will result in a 30% growth for the overall belt marketplace. As the industry leader, Randa will capture the lion's share of that growth."
Randa recognizes they have many partners to satisfy, however, in their case, confidence comes from experience. "There is one partner with the deciding vote and that is the consumer," adds Richard Carroll, Randa's senior vice president and creative director. "Our consumer votes consistently, and with clarity – that vote is for great product."
For media or corporate information inquiries, please contact:
David J. Katz, executive vice president & global chief marketing officer for Randa Accessories
212-768-8800.
######
Randa: Leading with Accessories
Randa is the leader in men's accessories and uses accessories to lead the way in lifestyle branding and retail success. This leadership is exhibited through innovative products, compelling sales environments, and lucrative partnerships. Randa collaborates with 75 market-leading brands including Levi's, Dockers, Tommy Hilfiger, Kenneth Cole, Nautica, Columbia Sportswear, Countess Mara, Guess, Dickies, Wembley, and Ryan Seacrest Distinction. Randa creates and markets men's belts, small leather goods, neckwear, luggage, casual bags, jewelry, seasonal footwear, hats, gloves, and gifts via all channels of distribution, worldwide. For more information http://www.randa.net.