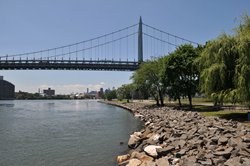 NEW YORK (PRWEB) May 24, 2021
The Randall's Island Park Alliance (RIPA) is the recipient of a $40,000 Urban and Community Forestry Program grant from the New York State Department of Environmental Conservation (NYS DEC) Division of Lands and Forests. The grant will allow RIPA to create a Community Forest Management Plan (CFMP), which will include retaining an ISA Certified Arborist and consulting with NYC Parks Forestry to develop a Tree Inventory with maintenance recommendations for over 3,000 landscape trees at the Park.
Deborah Maher, President of RIPA, said, "Trees have a great impact on our lives, and especially on our health and wellness. It is important that they are maintained so that they can continue to benefit our Park visitors. We look forward to working with our neighboring community to care for the Island's trees and we are very appreciative and excited to receive the grant from NYS DEC."
Robert Rodriguez, New York State Assembly Member, said, "I am pleased to see strong support for Randall's Island Park from the NYS DEC. The Tree Inventory and Community Forest Management Plan will help RIPA to create volunteer and drop-in programs to benefit and educate the East Harlem community."
"Randall's Island Park is a precious resource for our city, and especially for neighboring communities in East Harlem and the South Bronx," said Gale Brewer, Manhattan Borough President. "The Island's trees offer a welcome oasis, providing shade, reducing heat effects, and contributing to improved air quality. Their care is crucial for our wellbeing, and community engagement in their stewardship is an investment in our future."
The Tree Inventory and Community Forest Management Plan will play a strategic role in maintaining the Park. According to City Council Member Diana Ayala, "As the Plan is developed, RIPA will increasingly involve the Island's neighbors in on-site tree-themed education and stewardship. Ultimately, a goal is to use the Plan as a replicable template for similar efforts for other New York City Parks."
"Manhattan Community Board 11 enjoys working with RIPA, and the Urban and Community Forestry grant will help guide programs to benefit both the trees and the residents of our community," said Angel Mescain, District Manager.
Along with maintenance of the Island's natural areas, the Urban and Community Forestry grant will contribute to RIPA's continued efforts to create innovative environmental programs, volunteer events, and programming for the over 200 drop-in events held each year.
About the Randall's Island Park Alliance:
The Randall's Island Park Alliance (RIPA), founded in 1992, is a public-private partnership with the NYC Department of Parks & Recreation that seeks to realize the unique potential of 330 waterfront parkland acres anchoring Manhattan, the Bronx, and Queens. RIPA works with the City and local communities to provide an innovative and exciting destination through a wide range of sports venues, cultural events, and environmental exploration. As the dedicated steward of Randall's Island Park, the Alliance sustains, maintains, develops and programs the Park to support the well-being of all New Yorkers. The Park offers miles of waterfront pathways, almost nine acres of wetlands, an urban farm, a track and field stadium, a golf center, a 20-court tennis center, and over 60 new playing fields, as well as the Harlem River Event Site. For more information, please visit randallsisland.org.