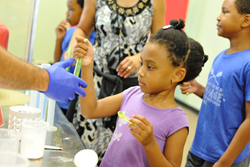 Guests can expect interactive edible experiences that encourage healthy relationships with technology and inspire kids to embrace STEM skills in a fun and collaborative "snack-hack" concept.
ATLANTA (PRWEB) August 16, 2018
Randi Zuckerberg, Founder and CEO of Zuckerberg Media, is bringing the family-friendly, tech-infused Sue's Tech Kitchen (STK) to Atlanta.
Conceptualized by Zuckerberg and designed by a team of tech experts, engineers, and scientists, Sue's Tech Kitchen features technologies from all corners of the modern imagination, empowering kids and adults to engage with tomorrow's advances. Guests can expect interactive edible experiences for all ages that encourage healthy relationships with technology and inspire kids to embrace STEM skills in a fun and collaborative "snack-hack" concept.
Sue's Tech Kitchen @ Emory Point:

855 Emory Point Drive, Atlanta, GA 30329
Located across from The General Muir
Open Friday, September 14 (9am-9pm), Saturday, September 15 (9am-9pm), and Sunday, September 16 (10am-7pm)
Admission is $8 per person (Ages 2 & Under Free)
Tickets available for purchase at http://www.suestechkitchen.com
On the heels of successful pop-up events in Cedar Park, TX; Palm Beach Gardens, FL; and Glen Allen, VA, the national tour, which was announced last year, will continue on September 14 in Atlanta and will go through 2018, bringing Sue's Tech Kitchen to a total of nine US cities, five of which are in partnership with ShopCore Properties.
"When Randi explained her new tech concept to me, I couldn't wait to bring it to Emory Point," said ShopCore Properties President and CEO, Luke Petherbridge. "We are committed to bringing innovative and educational experiences to our centers and are thrilled to be partnering with Sue's Tech Kitchen. As a parent, I understand the importance of introducing children to the world of technology, and I am pleased to be able to bring this opportunity to Atlanta and the surrounding communities."
Experiences will include fan favorites, such as 3D Printed S'Mores and a Subzero Stand teaching the science of liquid nitrogen, as well as brand new features, such as Binary Bracelets, Drone Drops, and more. Sue's Tech Kitchen will also celebrate the arts as a valuable component of education by collaborating with Davenport Theatricals to present a 360 virtual reality experience of their latest production, Once on This Island, winner of the 2018 Tony Award for Best Revival of a Musical. VR technology will place participants centerstage to discover the Broadway production's in-the-round power.
To further enhance the STEM-infused experience, Sue's Tech Kitchen will continue to celebrate local tech luminaries as part of their ongoing effort to promote nationwide innovation. Zuckerberg Media and Sue's Tech Kitchen inventors and leaders will be on-hand to greet audiences and discuss the future of tech with local STEM enthusiasts.
"We are so excited to continue our Sue's Tech Kitchen national tour in these soon-to-be major tech markets," says STK creator, Randi Zuckerberg. "Making sure kids and families have access to the tools they need to explore STEM education has always been a driving force for us, and as we continue our stops, we're developing more interactive stations that are exciting our guests and teaching them critical skills at the same time."
STK launched its first BETA "taste" in 2017 in Chattanooga's 'Tomorrow Building,' and continued with their Holiday SpecTECHular pop-up in New York City, which included guest lecturers, new stations, and more for kids and adults to enjoy.
For hours of operation, special information, pricing, updates and reservations please visit http://suestechkitchen.com.
Sue's Tech Kitchen is proud to work with local innovators, from entrepreneurs to tech giants. If you or your team would like to partner with Sue's Tech Kitchen, please contact us at sue(at)zuckerbergmedia.com.
FOR PRESS INQUIRIES: Contact Claire LaBeaux, claire(at)prclaire.com
About Randi Zuckerberg:
Randi Zuckerberg is an entrepreneur, investor, bestselling author, and tech media personality. She is the founder and CEO of Zuckerberg Media, developing technology, content, and live events all with the mission of putting intelligent, tech-savvy, entrepreneurial women and girls at the center of pop culture and media.
A Harvard graduate, Randi hosts a weekly talk business talk radio show, Dot Complicated on SiriusXM. She has two TV shows currently on air: DOT on NBC Universal Kids (winner of Kidscreen's Best New Preschool Series) about a spunky little girl who uses tech to enhance her everyday adventures, and American Dreams on HSN, highlighting entrepreneurs around the country. She is the New York Times best-selling author of Dot Complicated, Dot., Missy President, and most recently, Pick Three.
Randi travels the world, speaking about technology, entrepreneurship, her time as an early employee at Facebook, leading major marketing initiatives in the company's formative years, and shockingly...how to unplug! When she's not Facebooking or actual written-word booking, she can be found at the theater - as a TONY awards voter, investor in the award winning show Dear Evan Hansen, and board member for the American Theatre Wing and Lincoln Center - or doing her best to unplug at home with her husband and two young sons.
About ShopCore Properties:
ShopCore Properties owns and operates over 24 million square feet of retail space across the US. Their assets are concentrated in densely populated markets and are anchored by best-in-class retailers. They currently have significant holdings in California, Florida, Texas, New York and Pennsylvania.
About Emory Point:
Emory Point is located in the Druid Hills area of Atlanta, Georgia, and offers a unique mix of shopping, dining, and lifestyle options. Local favorites like The General Muir and Strippaggio complement an array of specialty boutiques and fitness brands throughout the center.  Marlow's Tavern, Tin Lizzy's, Fresh 2 Order, Orange Theory Fitness and Pink Barre, are just a few of the dining and service options Emory Point offers. Emory Point is positioned on the Clifton Corridor, a heavily trafficked area surrounded by the CDC, Emory University, and Emory Healthcare. Emory Point sponsors and hosts an abundance of signature events and family-centric activities and is a favorite place to be in Atlanta, Georgia.