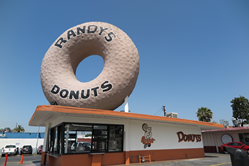 "We always believed that when the world started to see a glimpse of the end of the Covid crisis, that we would be one of the fastest growing brands in our category." - Mark Kelegian, President Randy's Donuts
LOS ANGELES (PRWEB) May 03, 2021
Randy's Donuts, the most iconic and recognized donut shop in the world, reaches a major new milestone by signing franchise development deals for 78 domestic stores throughout California in addition to 7 company stores (Santa Monica to open in summer), 10 company affiliated stores in development in Las Vegas and 7 in Central California.
It also continues its rapid growth internationally by adding franchise development deals for France, Morocco, Egypt, Kuwait, and Bahrain to its international market now totaling 64 stores. In total, 165 stores are set to open.
Randy's Donuts is also in negotiations for dozens of stores throughout California and other states. Likewise, it is currently in talks to develop the remainder of Europe, Mexico, Latin America, and throughout Asia.
Randy's Donuts president Mark Kelegian is excited for the boom in interest. "It's a very exciting time and we're thrilled for new markets to experience our beloved handmade donuts in their own neighborhoods. We always believed that when the world started to see a glimpse of the end of the Covid crisis, that we would be one of the fastest growing brands in our category," said Mark Kelegian.
Randy's Donuts began franchising domestically in the summer of 2019. Despite tremendous initial interest in 2019, the Covid crisis put a halt to all discussions in 2020. However, since the start of 2021, Randy's has seen a wave of interest from both domestic and international franchisees. "We are focusing our efforts on experienced multi-unit operators looking to add a dessert brand to their portfolio. We think this is the best approach for any franchisor in the early growth stages", added Kelegian.
In addition to its 7 company stores in southern California, 10 company affiliated stores in Las Vegas (many of which are already in construction), and its 7 company affiliated stores in Central California (1st store in Bakersfield will open within 90 days) the company has signed development deals for 25 stores in Downtown, Central and South Los Angeles, 10 stores in the Inland Empire, 12 stores in San Fernando Valley and North Los Angeles, 12 stores in Orange County, 10 stores in San Diego County, and 6 stores in the Temecula to Riverside area. Randy's has already received approval for 1 store in LAX Terminal 7 pending the full re-opening of the airport hospitality facilities.
Randy's Donuts began franchising internationally in 2018 with development deals for 20 stores in South Korea, 5 stores in portions of Saudi Arabia and 9 stores in the Philippines. However, due to the Covid crisis, most countries were prevented from opening stores. Saudi Arabia had a hugely successful pop-up store at the 2019 Riyadh Season and is opening its first permanent store in Jeddah this summer. On the other side of the globe, the South Korea stores are a huge hit. To date, the South Korean franchisee has opened three stores and expects to open their fourth store in June and fifth store by the end of the year.
On the heels of this international success, Randy's has signed development deals for 5 stores in France, 5 stores in Morocco, 10 stores in Egypt, 4 stores in Kuwait, 1 store in Bahrain, and expanded its foothold in Saudi Arabia to 10 stores. In total, Randy's has 64 stores either open or in development internationally and expecting even more growth in the next 12 months. Randy's is actively seeking a partner for expansion into China and other local markets in Asia.
At all Randy's Donuts locations, guests can find over 60 different varieties of classic, deluxe, fancy, and premium donuts along with Randy's Rounds (Randy's Donuts much larger version of a donut hole) and more. Unlike large donut chains, for over 60 years Randy's Donuts has made every donut by hand, using exclusive proprietary ingredients that produce a donut that is fluffier, airer, larger and stays fresh longer. Coffee enthusiasts are treated to a variety of coffee blends, espressos, cold brew, iced-drinks, and frappes powered by Randy's Roast – (Randy's Donuts propriety coffee roaster blend) along with local favorites in many stores.
Mark Kelegian and his family purchased Randy's Donuts in 2015. The company currently owns and operates six locations in Southern California. The Costa Mesa location, opened in March 2021 and the first in Orange County, sold over 100,000 donuts in its ten days.
For more information about Randy's Donuts and its franchise opportunities, visit randysdonuts.com/franchise.
About Randy's Donuts
Randy's Donuts is the most recognized donut shop in the world and one of the most iconic locations in Los Angeles, attracting visitors from around the world to take pictures of the giant rooftop donut. Immediately recognized as the landmark building from appearances in movies, music videos and television shows, Randy's has consistently been named one of the top donut shops in the country for nearly 60 years and the most-reviewed and highest-rated donut shop on Yelp and similar sites. Whether it's a first visit or a local, one taste of Randy's Donuts made by hand every morning brings customers back time and time again. Connect with Randy's Donuts on Facebook and Twitter at @randysdonutsla, and on LinkedIn, Instagram and TikTok at @RandysDonuts. Learn more at randysdonuts.com