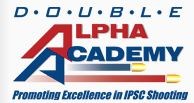 (PRWEB) December 05, 2013
For many years, shooters around the world attended IPSC and USPSA matches, while carrying their gear in one, two or even three bags in order to be able to take with them all the accessories they felt were needed for a competition day. Some of the gear could be - competition pistols, magazines, ammunitions, spare parts all the way down to warm clothing and food. In recent years, shooters have been spotted even using their cameras (action or still) so they could later post their photos and video on Facebook and YouTube. A range bag can be easily packed with 20-25kg of gear on a typical IPSC match or training day.
Range bags have evolved since, and nowadays there is a vast variety of practical shooting dedicated range bags on the market; however, only a few outperform the rest by durability, build quality, and of course, shooter-specific features. This is where the CED/DAA Professional Range Bags fit the bill. These range bags vary in size and purpose – while the smaller shooting bags are fantastic for a training session or a one-day match, while the others - the larger and more durable range bags are designed to meet the pro-shooter needs and could carry enough gear for varying weather conditions, spare pistols and replacement parts. Competition shooters carry a lot of gear, especially during level III and Level IV matches where they shoot for 2, 3, 4 and sometimes 5 days in a row.
For this reason, Double-Alpha in a joint project with Competitive Edge Dynamics, has custom designed the ultimate line of range bags – the RangePack Pro, RangePack and RangeCart Pro. The first two are IPSC/USPSA specific shooting bags that completely revolutionize the way shooters carry their gear. One of the required features, for example, is a lockable storage compartment; in many countries around the world, carrying a firearm to and from the range requires that you comply with some regulations, one of which is to be able to lock a firearm in a secure compartment. There is no need to carry firearms in a bulky separate case, this can now be safely done with the RangePack backpack line.
Furthermore, these range bags have been constructed from the ground up to meet the demanding requirements of the professionals. They are weather proof, have build-in range stools, pockets were designed to fit shooters' eyewear, magazines, cleaning kits and more.
While most range bags are shoulder-carried, the advantage of the RangePack product line is that it allows the user to carry all the gear on the back whilst reducing shoulder strain and fatigue which is a significant advantage on a long day out on the range.
To take another step forward and utilize the unique shape of the backpacks, DAA have designed a custom Range Cart (named RangeCart Pro) to allow IPSC shooters to carry their gear on a lightweight trolley with a full range of additional features such as – umbrella holder, lunch box, bottle holder, ammunition tray and magazine pouches. It folds flat and can be easily put away in a suitcase when traveling abroad.
The two RangePack backpack models along with the custom trolley – the RangeCart Pro create an entire new niche market within the practical shooting segment. Since the launch of these products, the update is overwhelming – both at the domestic market (Europe) and worldwide, mainly in the US.
Double-Alpha and CED strive for excellence and product quality – for customer feedback and suggestions, please contact them daa(at)doublealpha(dot)biz