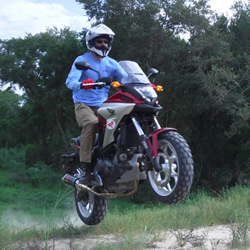 Finally, there is an effective way to upgrade motorcycles with damping rods to cartridge level performance, Adam Devine, CEO.
HOUSTON (PRWEB) August 09, 2019
Ranger Point Precision announces the company's new RPP Moto motorcycle parts manufacturing division which is based in Houston, TX along with the RPP Moto C4 Damping Rod Suspension Upgrade Kits uniquely employ patent pending technology to transform damping rods into cartridge style units with fully tunable, velocity sensitive compression and rebound valves. Initially, these are available for the following Honda motorcycles: NC750x, NC700x, CB500x, CB500f, CB650f, CB500x, CB750 Nighthawk, Rebel CMX300 and CMX500 Rebel. More models to come.
What's more, these masterfully engineered damping valves, once installed, are serviceable from the top of the motorcycle fork tube, allowing even novice mechanics to make fine-tuned adjustments to every damping aspect in just minutes. The company is also introducing our modular designed ADV Foot Pegs with wider and more aggressive grips, an angled bottom edge for more clearance, and robust pivot mounts that are available in black, red and brushed aluminum.
C4 Suspension Upgrade Kits for Motorcycle Forks with Damping Rods: Tune for Confidence, Comfort, Control, and Contact.
On the compression stroke, oil is forced upwards into the damping rods with four bleed holes, through the center of the rebound valve, and up through the two-way compression valve. The compression valve shims keep the ports covered, preventing aggressive dive under braking. At faster speeds, the compression valve shims bend open to blow off high pressure and soften harsh bumps, while preventing bottoming of the forks.
During the rebound stroke, oil flows out through a small hole in the rebound valve to maintain excellent pitch control during turn-in, braking, and terrain dips. At faster speeds, the rebound valve collar slowly opens until it's blown open entirely, exposing a t-shaped port so the forks can extend rapidly and the wheel can quickly regain contact with the road.
Key Features:

Dramatically improves compression and rebound damping control to rival cartridge style forks
Kits are pre-tuned per customer specifications
Fully fine-tunable without major disassembly, allowing fine adjustments to every aspect of the damping curves
Precisely machined aluminum components reduce unsprung weight by 1 pound
Kits come complete with one set of compression valves, one set of rebound valves, one set of precisely machined damping rods in light weight aluminum, and one extractor tool. Extended travel kits for the Honda NC750x, NC700x and CB500x allow for an additional 1" of travel height and include a set of rear shock linkages.
"You can still find damping rods in many entry-to-mid-level sport bikes, naked bikes, and cruisers," said Adam Devine, CEO, Ranger Point Precision. "The good news is that many of these otherwise great motorcycles are thousands of dollars cheaper than their competition oriented counterparts. Even better, there is finally an effective way to upgrade those old damping rods to cartridge level performance."
About RPP Moto
RPP Moto is a division of manufacturing company Ranger Point Precision LLC (RPP). Since 2013, RPP has developed 100 innovative, high quality products and has earned a reputation for being a leader in customer service. RPP Moto draws deeply from CEO Adam Devine's background as an avid motorcyclist with a passion for adventure and a former top San Francisco Bay Area motorcycle mechanic with expertise in suspension. All RPP Moto products are designed, tested and manufactured in Houston, TX. To learn more, please visit us at https://www.RPPMOTO.com or follow @rppmoto on Facebook, Instagram or YouTube.