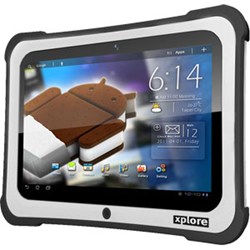 The RangerX is not only fully rugged, but also offers a wide range of multifaceted capabilities to adapt to the needs of enterprise, field service and data collection workers facing various elements.
Chandler, Arizona (PRWEB) August 06, 2013
Group Mobile, well known for carrying the top brands in rugged laptops, rugged tablet PCs, rugged smart phones, and rugged handheld computers has recently extended its product offerings to include the new Xplore RangerX. The RangerX is Xplore's first fully rugged Android tablet. The lightweight tablet has the largest storage capacity on the market, a magnificent outdoor-viewable display, and is certified as being fully rugged, holding both IP65 and MIL-STD-810G ratings.
"With more than 15 years of testing, research and development, Xplore has demonstrated the ability to bring proven technology to the rugged space," said Mark Holleran, president and chief operating officer for Xplore Technologies. "We're adding to that legacy with the RangerX, the most durable Android tablet available."
The 10.1 inch RangerX rugged Android tablet is perfect for field service applications in industries such as utilities, energy, warehousing, logistics, transportation, military, and public safety. The RangerX is the only rugged Android tablet to provide an optional integrated module with Gigabit Ethernet and HDMI-in connections, making it ideal for satellite, cable, broadband, and telecommunication providers.
"Our customers in the carrier space want to be able to reduce the number of tools their field service workers need to get the job done," added Holleran. "With the capability provided by the optional HDMI-in and Gigabit Ethernet, not only do they have the perfect tool for work-order management, but they can also validate and diagnose installation or service issues on-site with one device."
The RangerX is merely 2.2 pounds, and looks and feels more like a modern tablet than a traditional rugged device. The RangerX rugged Android tablet has a battery life up to 10 hours to maximize time in the field and increase productivity. The tablet's vibrant outdoor-viewable, multi-touch display allows for an easy transition from indoors to outdoors. In addition, the RangerX comes with a standard three-year warranty.
"The RangerX is not only fully rugged, but also offers a wide range of multifaceted capabilities to adapt to the needs of enterprise, field service and data collection workers facing various elements," Philip S. Sassower, chief executive officer and chairman of the board for Xplore Technologies, said. "The new RangerX highlights our commitment to expand our product offerings in order to meet specialized customer needs."
The RangerX tablet comes standard with the following:
— Rugged for any Extreme Environment: Waterproof and dustproof (IP65) and designed to survive real world conditions (MIL-STD-810G)
— Lightweight Platform: 2.2 pounds with a 10-hour battery life
— Powerful Performance: Dual Core ARM Cortex A9 Processor, 32GB of storage (expandable to 192GB of RAM) and Google Android 4.0.4
— Full Communications Suite: Bluetooth 4.0.4, GPS, and Wi-Fi (802.11 a/b/g/n)
— Brilliant Display: IPS 1366 x 768 resolution and a multi-touch screen
— Expansive Inputs/Outputs: 5MP Rear and 1.2MP 720P Front Cameras, HDMI-Out, USB ports, RFID reader, and more
The RangerX is fully optimized with features designed for all environments, including:
— Telecommunications and Cable: Optional HDMI-in and RJ-45 features allow telecommunications and cable workers to consolidate all equipment into a single device — an industry first.
— Warehousing, Logistics, etc.: Integrated RFID and NFC capabilities come standard in the RangerX, increasing operational efficiency and accuracy in distribution centers, warehousing, logistics, and transportation industries. In addition, the RangerX is compatible with all major Bluetooth and USB barcode scanners.
— Military: The common access card (CAC) reader option and FIPS 140-2 compliancy provides the most secure rugged experience for government and military operations.
The fully-rugged RangerX Android tablet complements Xplore's existing iX104C ultra-rugged product line. The iX104C devices are ideal in extreme conditions and hazardous environments, and deploy high-end enterprise level applications with trust and dependability.
To learn more and purchase a Xplore RangerX rugged Android tablet, visit http://www.groupmobile.com/product.asp/sku=6840.
About Group Mobile
Headquartered in Phoenix, AZ, Group Mobile serves customers all over North America. Customers range from Fortune 500 companies and the U.S. Military, to local police/fire/ambulance, to small and mid-size businesses, to the frequent traveler that needs something more durable than a commercial, off-the-shelf computer. Group Mobile carries all the leading rugged computing brands. In addition, Group Mobile offers vehicle docking and mounting equipment from Gamber Johnson, Ram Mounts, and Havis/Ledco. To learn more about rugged computers and how they differ from commercial, indoor computers, check out the Rugged Computer Guide or visit us online at http://www.groupmobile.com.
About Xplore Technologies
Xplore Technologies Corp. has been a leading global provider of truly rugged tablets since 1998. With nearly 90,000 deployments, Xplore tablets are among the most powerful and longest lasting in their class, withstand nearly any hazardous condition or environmental extreme, and feature competitive pricing and significant ROI. The company's products are sold on a global basis, with channel partners in the United States, Canada, Europe and Asia Pacific. Xplore Technologies' tablets are deployed across a variety of industries and sectors, such as energy, military operations, manufacturing, distribution, public services, public safety, government, and other areas with hazardous work conditions. For more information, visit http://www.xploretech.com.